Creative does not simply describe what I 'make', rather it is who I am. Over the years I've explored many different mediums, but the result is the same. When an idea is brought to completion, an "itch" within me is satisfied.
Why do I create? My Lord and Savior created first and placed this gift in me. To not create would deny a part of my life purpose and how I was uniquely made. It pleases me to use these gifts He has given me to honor Him.
People seek thrills in a variety of ways. Creating thrills me. (You can read more here to better understand what makes a person creative.)
"The desire to create is one of the deepest yearnings of the human soul… We each have an inherent wish to create something that did not exist before…" Dieter F. Uchtdorf
If you explore my gallery of work, you will see I'm a rather prolific quilt making fiber artist and I don't limit myself to any one 'style'. My pieces run the gamut from traditional to modern, functional to fashionable. Whether for a bed, lap, table, or wall, my quilts add accent to a home and are thoughtfully, skillfully created to provide beauty, warmth, and comfort for the eye, heart, and soul.
I began quilting about 40 years ago, and have shared my passion for the art of quilting with others through classes wherever I've called home. Current class offerings can be found here.
Literally hundreds of patterns have been made by quilters for many generations. I love making these traditional patterns 'new', but I also like designing my own original pieces. When doing so, it falls within my artistic nature to create, not merely imitate. My inspiration often comes directly from the fabrics with which I work. I often make use of techniques that allow me to bring forth unique one-of-a-kind pieces. Each of my quilts tell a special story. I invite you to take a visual stroll through many of my creative endeavors here-to-date and hope you'll enjoy reading the stories behind each one.
Blank quilt note cards of selected pieces are available for purchase and allow you to have a piece of my private collection as a cover for your personal notes, to frame for yourself, or to give as a gift. You can read more about the story behind these selected cards by clicking on their tab under the Items Currently Available for Purchase tab on the right.
As quilted pieces of my work become available for purchase, you will find them listed on the Quilts and such tab on the right. Should a quilted piece not currently listed as "available for purchase" catch your fancy, please contact me directly to inquire about its availability and pricing. Additionally, I do welcome commissioned special requests. Studio 2724 – Custom Quilts – FAQs
While I sincerely appreciate interest expressed in my original pieces, I do not market or sell patterns of my original designs. However, I do share my creative processes in classes given in my studio and elsewhere. I enjoy teaching at club meetings, guild workshops, and retreats.
Please respect that my original designs are my own intellectual property. I am delighted that they often provide others inspiration, but appreciating their not being copied.
Woodturner, Frank Sudol said it this way, "The message for my students is, you will never be remembered for what you copied, but you will be remembered for what you created. …Once you reach inside, you will have original work."
For more insight into copyright issues, I invite you to read Steven Bradley's article entitled, "The Line Between Inspired By And Copied From And How To Stay On Its Right Side".
Studio 2724 participates with the Top of Virginia Artisan Trail. Check us out here online.
We thoroughly enjoy sharing our studio passions with visitors! If interested in a tour, email me to set up an appointment. (Sue@Studio2724.com )
In July 2018, we welcomed a Top of Virginia Artisan Trail "Pioneer" Trail ride with these lovely residents of the Village at Orchard Ridge.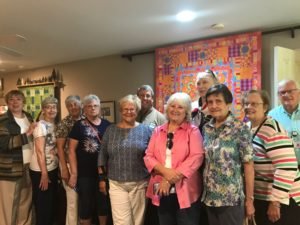 I am truly honored to have my "Blue Ridge – Outback the Shenandoah" quilt numbered among the art pieces selected for inclusion in the new book showcasing the natural beauty of Clarke County, VA!
Sales of the book benefit The Piedmont Environmental Council, a Virginia organization devoted to promoting and protecting the Piedmont area's rural economy, natural resources, history, and beauty.
October 5th, 2018, Clarke's Great Outdoors book launches with a book signing and art show at The Barns of Rose Hill.
Clarke's Great Outdoors book is a collection of photos, artwork, and writing from more than 80 artists inspired by nature in Clarke County.
At the invitation of The Museum of the Shenandoah Valley in Winchester, VA, it was my extreme honor to have 15 of my quilts showcased in an Art in the Halls, Solo-Artist Show from October 18th, 2016 through January 22nd, 2017.  To see the quilts included in this show, click here. This 'collection' included:
A See of Three
Amanda's Bouquet
Fern Grotto – Wailua River Falls, Hawaii – Kayaking Kauai
Fractured Floral #8
Fractured Floral #9
Giverney Clos Normand
Hiding in Plain Sight
Lighting the Way Home
Near a Railroad Crossing
Ocean City Bloom
Path to Escargot
Shuffling Hexagons
Tucson Wildflower
View from a Pew
Winchester's War
The Studios at 2724 opened our doors as a part of the Clarke County Artist Studio Tour – Clarke County, VA    October 1st and 2nd, 2016.
This tour showcased the art and craft of our Virginia county's talented makers.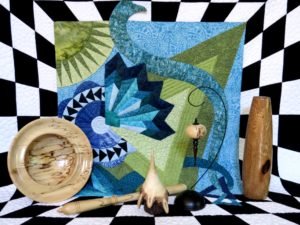 It was my pleasure to participate in the Shenandoah Arts Council "Home for the Holidays" Handmade Exhibition in Winchester, Virginia,  that ran from December 4th  through the 20th, 2015.
You'll notice pictured here are my "Fruits of the Forest" quilted place mats on the table and my Vintage Christmas quilt (hanging).
October 30th – 1 November 2015, Clarke County Virginia hosted a "first of its kind" event held at the Fairgrounds in Berryville. It was my privilege and pleasure to have been invited to hang my "Because of the Brave" quilt in honor the Veterans present at The Gathering .
Hickman Family Royal Caribbean Cruise Quilt signed by all family members and presented to Ernie and Ruth Hickman on our cruise 7/2015
____________________________________________
February 15th – March 15th, 2015 –  It was my honor to be invited to participate in the Barns of Rose Hill exhibit entitled, "Quilts and their Stories"! Almost every one of my quilts has a story. It was hard to decide which ones to include.  Of course, all my quilt stories are told here in the pages of my gallery.
____________________________________________________________
70th Annual Waterford Homes Tour & Crafts Exhibit in Waterford, Va.   10/2013
The "Waterford Fair", as it is locally known, is a juried show of 160+ artisans showing a variety of traditional hand work in this National Historic Landmark Village. The 3-day event also features home tours, reenactments, food, and more. Many come for a day of fun and enjoy seeing exceptional traditional arts created as they watch! It was my distinct honor to be among those invited to exhibit. My quilted creations and note card sets were available in "The Mill" for purchase at this historic event.
_______________________________________________________
December 1st, 2012, I enjoyed visiting with all those who stopped by while I demonstrated quilt making as Berryville's Fire House Gallery "Art of Making Art" featured artist.