Friendship's Offering (12.5″ Sq)
Pieced and Quilted by Sue Hickman     Berryville, VA     4/1/2018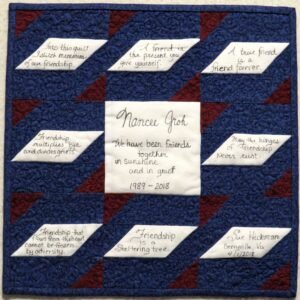 Owned by Nancee Groh of Carlisle, PA
Easter Morn… He is Risen! (~42″ Sq.)
Designed, pieced, appliqued, and quilted by Sue Hickman     Berryville, VA     3/2018
It all began with 4 bunny shapes cut from an antique quilt. To be clear… I did not cut these shapes. Rather, I found them in an antique store and had to take them home with me. From the start I envisioned them on an Easter quilt. I designed this quilt for them with green grass under their feet, surrounded by half square triangles and flying geese with a subtle Cross at the center. The top and bottom flying geese 'fly' in towards the cross and the side geese all fly upward toward Heaven. When I rushed to finish this quilt in the 1990's I did only the most basic of quilting stitches to hold it all together. About ten years ago, I free motion stitched a large stipple in the background around the bunnies. Yes, I've hung it up for Easter over the years, but this year I finished it. Wahoo! Hosting a gathering of family this Easter, including my Mom and my 1 year old grandson, was the impetus I needed to finish quilting this piece, complete with He is Risen quilted into the ribbon in the lower right hand corner of the border.
Four-Inch Five-Squared (43″ Square)
Traditionally pieced and quilted by Sue Hickman     Berryville, VA     3/2018
This AQS pattern first caught my eye when it was featured in the AQS Blog as 2017 Christmas Countdown. It was shown using red and white fabrics. I chose a beige fabric with a tiny green overall pattern and green and red dots and contrasted that with a green fabric with red and gold specks. The small scale of both prints fit perfectly with these small intricately pieced 4″ blocks. I opted to leave off the 2 inch outer border the pattern called for, opting instead to simply bind it in the green fabric.
I plan to use this quilt year round, and while it doesn't 'scream' Christmas, if you look closely, it still represents the season with its green, red, and gold.
I finished it in advance of National Quilting Day (annually, the 3rd Saturday of March).
The paperclip shown on block #2 shows both the scale of the blocks and the beauty of the prints.
Women of My Life (55″ Sq)
Pieced and quilted by Sue Hickman     Berryville, VA     3/2018

As I sat to write this quilt's story, nearly a year to the day had passed since I was inspired to create it. It was on International Women's Day (3/8/2017) that the American Quilter's Society posted Betsey Langford's "Women of My Life Block Project".
I liked the symmetry and 'feel' of the quilt shown in her pattern and I've long appreciated the old tradition of signature quilts.
Betsey said, "As we journey through life, there are many people who touch our hearts in dear and special ways. They give us a little part of themselves to carry with us. This quilting project is created to memorialize these people, remembering the love and strength they give us each and every day. This month is National Women's History month, and as I think back on the women throughout history that have influenced my world, I'm reminiscent of those that are not so famous, but have impacted me and changed my life. As my mind thought on these things, the desire to wrap myself in their love and support manifested itself in the idea of this quilt." And, as she encouraged readers to do, I took her idea and made it my own.
Having long shared my home with my husband and sons, I've commented more than once that mine is a male household. Even our dogs have been male. It wasn't until my boys grew up and married that I gained daughter-in-laws and, as our nest emptied, we added a coop and pastures for my "ladies", our flock of wonderful egg laying hens. Over the years, I may have been outnumbered at home but I was never 'alone'. God richly blessed me with the gift of women at every stage of life and at every place I've called home. As I pondered who might respond to my request, I emailed out the following:
Hi there!
You are receiving this because you ARE a special woman in my life!
On this, International Women's Day – I'm 'working'… and in my creative way, I'm        thinking about a quilt, for ME J, honoring those special women in my life… namely YOU.
To participate in this project, what I'm asking each of you to do, is simply take a piece of white paper. On it, draw (with a pencil) a straight line three (3) inches long, on which I'm asking you, in your most beautiful handwriting, to sign your name in black ink.
Don't think small… your signature ideally would be about one (1) inch high. (Therefore… 3" long and 1" high.) I will transfer these signatures onto fabric that will be worked into a, what I hope will be, a beautiful quilt.
I promise to share the completed quilt with you all, though, with what's on my 'schedule', it could be much later in this year before it is finished.
How many of you are able to send your signature will determine how BIG this quilt will be.  
OK… lastly, simply place your signature in an envelope and mail it to me…
And, for today, please know I'm thinking of YOU with a grateful heart for how you've touched my life!
XO and love,
If I didn't have an email address I mailed the request, and some I called by phone. And I waited for the responses.
The first one I received was from a quilting student who had recently taken a class with me. As each signature arrived in the mail, my heart was warmed with the special memory attached to the name and the memories we shared. It saddened me to realize I'd lost touch of some dear friends as a handful of emails were returned, address of the sender unknown. Some computer savvy friends signed their names, scanned their signatures, and returned them to me attached to emails. Some non-quilters were curious about the concept, so I shared this link with them.
Though I had high hopes that I'd finish this quilt and snuggle under the love of these dear friends after my bi-lateral knee replacement, as the date was moved up I knew it would be a project I'd return to after surgery. Sadly, unrelated health challenges further kept me from my quilting throughout the fall.
During my recovery I decided 'how' I'd lay out these signature blocks. Rather than a random placement, I decided the inner square would feature family members starting with my Mom in the center and, circling clock-wise, I decided to place each person's signature relatively in the order in which they came into my life.
It wasn't until mid-January of this year that I was able to get back into my studio. As I continued transferring signatures to the fabric blocks using a make-shift light box, I noted two areas lacking; those special women who had gone before and those who I couldn't reach to get a signature. It just didn't seem right to complete the quilt without those names on blocks, so I added them myself. I identified those who had gone before with a different red fabric on the corners of their blocks. For the signatures that were missing, I printed the names onto the blocks myself.
Around the center block I wrote my full name and who I am to the women on this quilt in order: Susan Drake Shull Gauldin Hickman, Daughter, Granddaughter, Niece, Cousin, Sister, Friend, Delta Gamma Sister, Daughter-in-law, Sister-in-law, Co-Worker, Teacher, Aunt, and Mother-in-law… truly blessed and thankful!
Missing from this list are three very important titles by which I'm known, those being Wife, Mom, and Mimi. These are missing because I fill those roles in relation to the very important men in my life, and this quilt is dedicated to the Women of My Life.
Once back in my studio, besides picking up where I left off with a number of quilts "in progress", I was also eager to try out my new Brother Mid-arm. I'd bought it before my knee surgery and had it delivered afterwards. I'd even taken an introductory "how to use it" class, but actually quilting on it had to wait until January when I regained my health and after I'd readied a top or two. This quilt was the third quilted on this new machine. I've long free motion quilted, but there is always a learning curve to using a new machine. This quilt isn't 'perfect', but it's mine and I love it!
Just as it warmed my heart throughout this past year to reconnect with these dear friends, receive their signatures, and later transfer those from paper to fabric, I was blessed by the memory of how they'd touched my life as I quilted around each one. The pattern called for 156 pieced signature blocks and three plain 'rings' of a solid fabric. My quilt contains 136 pieced signature blocks and 2 'rings'. Each corner of my quilt is anchored by a 'border bracket' of blue fabric that are not unlike photo corners that used to hold photos onto their pages in albums 'back in the day'.
My mother used to frequently sing me the refrain of Johnson Oatman, Jr.'s hymn titled, Count Your Many Blessings, published in 1897. The lyrics are:
When upon life's billows you are tempest-tossed,
When you are discouraged, thinking all is lost,
Count your many blessings, name them one by one,
And it will surprise you what the Lord has done.

Refrain:
Count your blessings, name them one by one,
Count your blessings, see what God has done!
Count your blessings, name them one by one,
*Count your many blessings, see what God has done.
[*And it will surprise you what the Lord has done.]

Are you ever burdened with a load of care?
Does the cross seem heavy you are called to bear?
Count your many blessings, every doubt will fly,
And you will keep singing as the days go by.
When you look at others with their lands and gold,
Think that Christ has promised you His wealth untold;
Count your many blessings—*money cannot buy [*wealth can never buy]
Your reward in heaven, nor your home on high.
So, amid the conflict whether great or small,
Do not be discouraged, God is over all;
Count your many blessings, angels will attend,
Help and comfort give you to your journey's end.
*alternate text
As the song suggests and as my mother taught me, I do count my many blessings! Numbered among them are each of these precious women represented in this quilt by their name and signature. Now, even when I reach my "journey's end", they will never be forgotten!
Revisiting the Past (59.5″ x 49.5″)
Pieced, appliqued, and quilted by Sue Hickman     Berryville, VA     2/2018
The military made us neighbors, trials and war forged us as forever friends. What joy that in 'retirement' we live close enough to continue to get together in person!
Each time my dear, dear friend Nancee and I get together it is like no time has passed since the last visit. We usually 'catch-up' while walking through antique or fabric stores before we have lunch.
This quilt began as a picture Nancee had taken of an antique quilt. I jumped at the opportunity to also re-create this precious piece of the past! First, we guessed at our block size, calculated yardage needed, and shopped together for fabric on one of our outings. Next, we figured out a pattern for the pieced block. It was not a block that went together easily, but we persisted.
Following my knee surgery last year I started quilting a block… intricately. Big mistake. I hated it. After input from Nancee and family I painstakingly removed every little stitch in that block and proceeded to free motion quilt a leaf in each quadrant of the solid blocks with swirls in the pieced blocks. Now, I love it.
This is the second quilt completed on my mid-arm. Its vintage looking fabrics and antique beginnings allow me to revisit the past each time I cozy under it.
Returning Home (77)" x 65″)
Pieced and quilted by Sue Hickman     Berryville, VA     2/2018
This is, for me, a comfort quilt!
Six months ago I had double knee replacement. I knew the recovery would keep me from my studio for a while, but I couldn't have imagined that a serious infection, unrelated to my knees, would require an extended hospital stay and keep me from getting back to my quilting.
When I was ready to return to my studio I went straight for 'comfort food'… for me that is traditional piecing.
A few years ago my husband and I had taken a cross country journey. Along the way we'd stopped at quilt shops (of course) and Farm Girl Vintage (by Lori Holt of Bee in my Bonnet) was all the rage. I'm not often drawn in by published patterns, but after seeing these charming quilts hanging in shop after shop I succumb to the urge to buy the pattern book and began picking up 30's fabrics to add to my stash.
Once I left the hospital and continued my recovery at home, I laid out a plan for making this quilt my own. Once I returned to my home studio, I began piecing a number of tops. This was the first to be completed and the first to be quilted on my mid-arm.
Yes, I'd bought a DQLT15 Brother Dream Quilter mid-arm quilting machine on their Dream Frame last summer. That, too, is an interesting story! For years I've free motion quilted on my stationary sewing machine. My husband had encouraged me over and over again to get a long-arm, but I wasn't swayed. They are so big and take up so much room and are so very expensive. I tend to make mostly smaller quilts and the few too large for me to comfortably wrestle with on my stationary machine I had sent to my local long-arm quilter. Then, last summer I happened to see this mid-arm and I fell in love. I could sit (as opposed to stand) at the machine and it quilted beautifully. I could put a basted quilt of any size on this frame, but the frame wouldn't take up my whole room and it didn't cost an arm and a leg… I was sold. My husband laughed and laughed when I called to tell him I wanted a mid-arm.
I bought it before my knee surgery and had it delivered after surgery. It gave me something to look forward to… a reason to speed my recovery, or so I thought. I took a class on how to use it after it was delivered… just one week before I ended up in the hospital. So it sat neglected, until this quilt top was ready for quilting.
Even in my selection of blocks, this quilt represents the comforts that greeted me when I returned home from the hospital and returned to quilting in my studio. Our home is central to the top, surrounded by tall trees. Old Glory flies proudly in these "country crossroads". Winter, spring, summer, and autumn stars anchor the corners and there is a "simple star" and a "welcome block". There are "furrows blocks" and of course, there is a Momma hen and baby chicks, "chicken foot", "egg basket", and "feed & seed" blocks, and chickens and Roos are "out to pasture" by a "haystack".  There are "farm fresh flowers", a "sunny sunflower" (standing tall on "crop" blocks). "Apron strings" represents my passions in the kitchen… "fresh pears", "pie cherries", a "scrappy strawberry", "corn & tomatoes", "peas & carrots", "baking day" and "canning season", and, of course, the "kettle's on". "Cool threads" represent my studio, along with "Grandma's quilt block" and a basic "pinwheel block". A colorful "scrappy maple leaf" and "patchwork pumpkin" complete my favorite season. And last, but not least, a "wooly sheep" represents one of my favorite collections.
There's no place like home!!!
God's Valentine Wishes (6″ Sq.)
Pieced and quilted by Sue Hickman
Henry Wadsworth Longfellow wrote about it in his poem "The Rainy Day" and Ella Fitzgerald sang about it with the Ink Spots… yes, "Into Each Life Some Rain Must Fall".
When a dear friend's husband recently made his journey home to Heaven unexpectedly, God moved my heart to make this, His Valentine for her.
Heart to Heart (11.75″ x 8.5″)
Pieced, appliqued, and quilted by Sue Hickman
A Valentine's Day gift for my sweetheart, made and presented on Spouses Day 1/26/2018.
The heart shaped balloon consists of 20 wool hearts.
Then on February 8th I received these luscious chocolates from my Valentine… gluten free and totally non-fattening… he knows me well!!!
Yes, creativity abounds in our studio!
This up-cycled Russell Stover Chocolates box contains "Fine Assorted Woods" from Dave Hickman's "Private Reserve" (16 different wooden 'candies' – identified as: Black Walnut, Spalted White Oak, Pink Ivory, Cocobolo, Zebrawood, Mahogany, Wenge, Bubinga, Spalted Maple, Purple Heart, Iron Wood, Jatoba, Cherry, and three with special notations: Koa from our 1999 Kauai trip, Cedar from my Dad's walking cane, and Redwood Burl from Ocean City, MD. Each is beautifully finished to a fine luster and comes with the request, "Wood You Be Mine". My woodturner knows the way to my heart!