Koi Uncorked (52.5″ x 60″)
Pieced, appliqued, and quilted by Sue Hickman Berryville, VA 4/2019
Koi means love in Japanese? How about that!
I also learned that in Japan, koi symbolizes many good qualities. Known to swim against the current and overcome great obstacles, koi symbolize strength, courage, patience, and success through perseverance. As koi can grow very large and live a long life, they have become a symbol of prosperity and good luck. Their slow, graceful movements also symbolize peace and tranquility.
That is what I've always found when beside a koi pond… peace and tranquility.
When I saw this fabric, I knew in an instant I wanted to kaleidoscope it and the result is just what I hoped.
Currently available for purchase. See Quilts and such Tab.
Fractured Floral #14 (17.5″ x 15″)
Fractured, pieced, thread painted and quilted by Sue Hickman Berryville, VA 4/2019
These flowers transport me to a tropical paradise. Fractured and embellished with thread painting added dimension to Lynnea Washburn's already beautiful and colorful design (Island Sanctuary / Robert Kaufman fabric). I lost count of how many different colors I used in quilting it.
My NQM-BOM Sampler Quilt (66.5″ Sq.)
Pieced, paper-pieced, English paper pieced, embroidered, hand and machine appliqued, embellished with antique buttons, and quilted by Sue Hickman Berryville, VA 3/4/2019
Top showcasing NQM-BOM blocks designed by Sue Hickman
To read this quilt's full story, click here to go to its page.
Two of my favorite blocks up close:
Twin Sturbridge Peaks (108″ x 86.5″)
Pieced and quilted by Sue Hickman Berryville, VA 2/2019
While traveling in New England years ago, I found these charming 'Sturbridge" inspired printed squares. (Truth be told, it was the rooster weathervane and the sheep blocks that insisted I take them home!) Sharyn Craig's 'Twin Peaks" pattern offerred just the right setting to showcase them.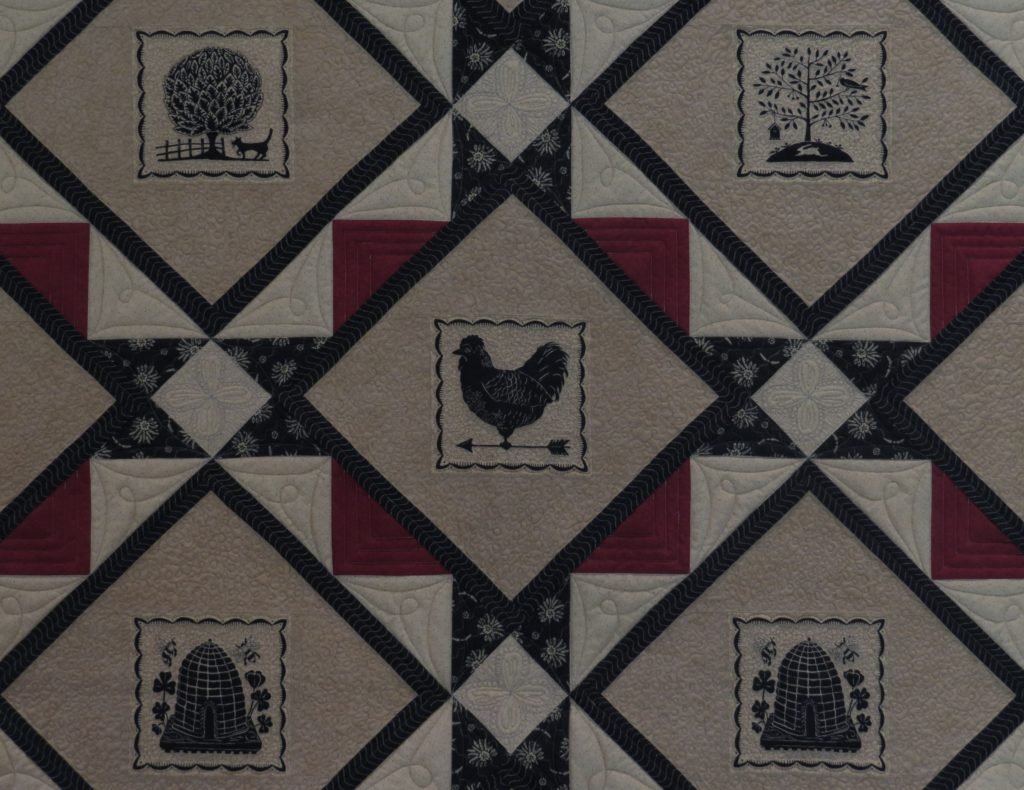 Mystery Quilt – 2nd of 5 (24″ Sq.)
Designed, embroidered, pieced, hand and machine appliqued, painted, and quilted by Sue Hickman Berryville, VA 2/20/2019
Yes, I must keep this second quilt a mystery, too, until all five in this challenge are completed and revealed together in 2020. It was great fun this fall designing this powerful series and seeing this quilt come to completion. Making this quilt was, indeed, a challenge! I made extensive use of the embroidery features on my Phaff (something I only rarely do) and I painted on fabric in this second quilt, too. I only note it here to 'save' its space in my studio's quilting history. Sorry for the intrigue, but I think all will agree it was worth it in the end.
Jerry's Quilt (60″ x 48″)
Designed, pieced, quilted by Sue Hickman Berryville, VA 1/2019
A quilt memoralizing our dear friend, Ohio native and Ohio State fan extraordinaire, beloved husband, father, PopPop, Jerry Atkison (2/3/1957 – 1/30/2018).
Made using his own, very dapper button-down shirts, Ohio State logo'd polo shirts and laynard, family photos, Disney t-shirt, and work insignia, it is my hope this quilt will hold treasured memories close while offering warmth and comfort to his Diane.
While making this quilt, I learned it is quite an honor for an Ohio State band member to "dot the 'i'" at a game. As I free-motion quilted it, I couldn't help adding the description "Beloved", for Jerry surely was that by everyone who knew him, and I also inserted "Ohio" and ceremoniously dotted the "i" in Jerry's honor. Until we meet again, Jerry…