Jodi's Pumpkin Hollow
37″ x 30″
Pieced, machine and hand appliqued, and free-motion quilted by Sue Hickman Berryville, VA 9/2021
I had picked up Jodi Barrows' Square in a Square Quilting System ages ago, curious about her "new" technique, and in her book was this sweet quilt she called Pumpkin Hollow. As I continue to work my way through my stash of goodies in my studio, I decided it was time to give her system a try. While I don't think a square in a square is difficult, no matter how you achieve it, I always enjoy trying new things and I love the result! I find this wall hanging alive with movement and texture, and rich in autumnal colors! It is a gorgeous representation of my favorite time of year.
Say Cheese, Cheddar Please!
61″ x 50″
Pieced and free-motion quilted by Sue Hickman Berryville, VA 9/2021
Simple enough in its design, this quilt alternates 9-patch blocks and plain blocks on point and was inspired by an antique quilt (dated 1877) that I see every day hanging on my family room wall behind my TV. The fabrics, rich in tone, make for a stunning generous-sized lap quilt.
For Deven, with love – TRIBE 16
63″ x 56.75″
Pieced and free-motion quilted by Sue Hickman Berryville, VA 8/2021
On June 24, 2021 the world saw the 12 story Champlain Towers South condo building collapse in Surfside, Fl. It wasn't long afterwards that I learned my friend Jackie T.'s niece, Angela, and her 16 year old daughter, Deven, were two of the three who survived being pulled alive from the wreckage. This disaster then became personal for me.

In that disaster, Angela and Deven lost not only their husband and father, but also every "thing" they owned, except their faith. It was my honor to have cast the vision for this quilt and to see it to completion, but the making of it wouldn't have been possible without the assistance of Amy Morgan, who along with Coach Mike, coached Tribe 16, a Florida competitive traveling volleyball team.
Amy brought the team (Angie, Amanda, Axi, Cami, Giselle, Isabel, Kristen, Liyah, Maddie, and Val) together to make these precious expressions of love and encouragement for Deven.
I pieced these squares together and quilt it all with hopes it will be a comfort to Deven to know she is wrapped in love from her family, her coaches and teammates, friends, and even folks, like me, she's never met. TGBTGA!
This interview with Angela and Deven (aired 9-2-2021 on the Today Show) shares their harrowing experience.
Glassy Sea
49″ Sq.
Pieced and free-motion quilted by Sue Hickman Berryville, VA 8/2021
I'm often asked how I decide what to name my quilts. Each one comes from a unique thought. This one derived its name from two places. This wonderful fabric line was designed by Kim Diehl for Henry Glass & Co., and she called the free pattern designed to accompany the line "Sage & Sea Glass".
This beachcomber loves the sea and is always looking out for sea glass. It's rare and beautiful, and always an unexpected find. I thought the same about this fabric line. I liked the free pattern's main block and elements of the border and used both as a starting point, but designed a second block and included dark blue fabrics to add interest and dimension to the finished quilt.
Robbing Peter Paying Paul Scrappy Blues
49″ Sq.
Pieced and free-motion quilted by Sue Hickman Berryville, VA 7/2021
This traditional pattern came to prominence in the late half of the 19th century, but I understand its origins can be traced back to Ancient Egypt. Apparently archaeologists have discovered this familiar design on Roman artifacts. It is known by a number of names. Some say it originated in England where it was called Wanderer in the Wilderness, Rob Peter to Pay Paul, or Mill Wheel. The Amish call it Solomon's Puzzle. Others called it the Drunkard's Path, making it the most popular quilt pattern used to further the cause of the Temperance movement in the early 20th century. Whatever its name, it is a classic!
I've made a few quilts using this challenging block that involves joining together concave and convex curves. The wide variety of layout options gets my creative juices flowing. (Check out 'Honoring the Brave' and 'Drunk on Color' quilts made in 2020.) The complexity of this layout is especially suited to two colors. By making it scrappy and using creative free-motion quilting throughout, I've added dimension to the overall design.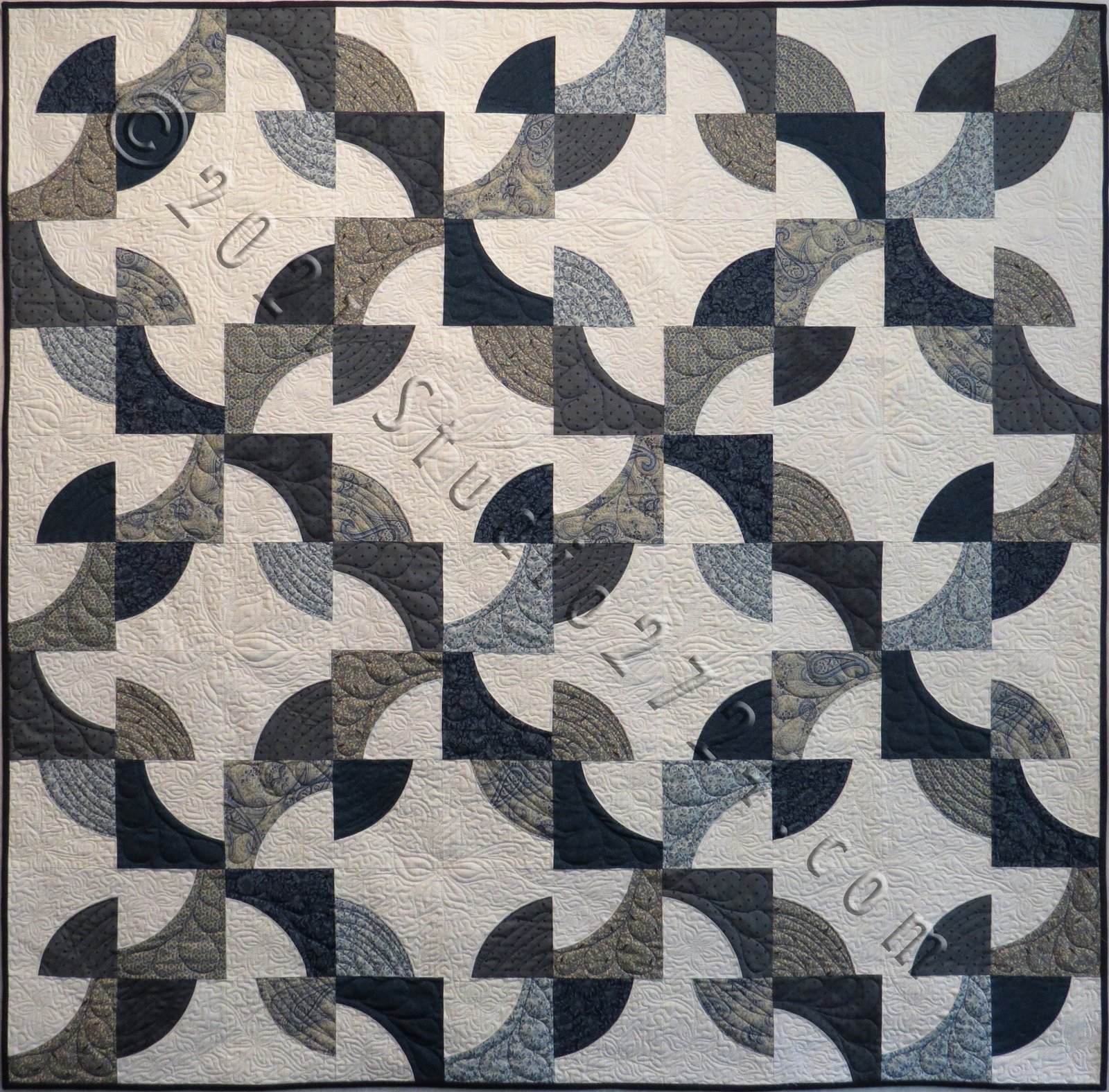 Heaven Bound
57″ Sq.
Designed, pieced, and free-motion quilted by Sue Hickman for Evann Mooney, daughter Jacqueline, and son James, III, in memory of James O. Mooney, Jr.
Berryville, VA 7/2021
A Life Well Played
57″ x 42″
Designed, pieced, and free-motion quilted by Sue Hickman for Evann Mooney, daughter Jacqueline, and son James, III, in memory of James O. Mooney, Jr.
Berryville, VA 7/2021
Pretty in Teal
21″ Sq.
Pieced and free-motion quilted by Sue Hickman Berryville, VA 6/2021
Whether hung on the wall or topping a table, this small quilt is indeed, "Pretty in Teal"!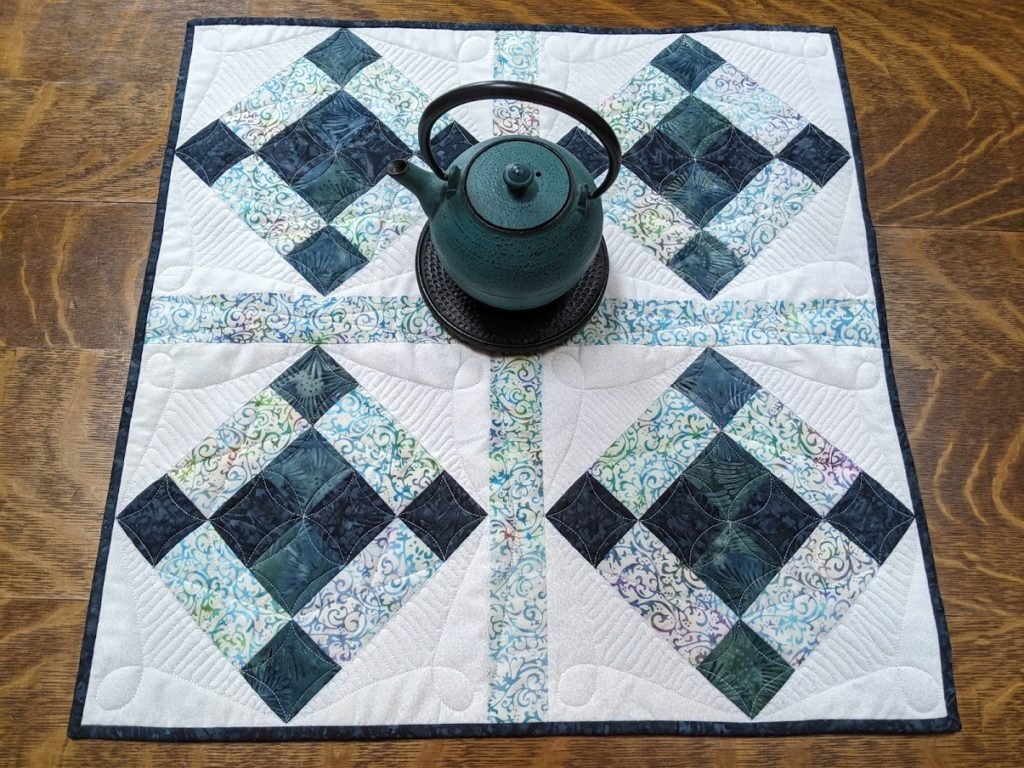 Fascinating Facets
61″ x 43″ (a.k.a. Debby's 'Gretchen' quilt.)
Pieced and free-motion quilted by Sue Hickman Berryville, VA 6/2021
There's no scrimping on this one's story!
During last year's pandemic with no in person quilt shows, no challenges to focus on, and having halted all my classes, lectures, and demonstrations, I began working my way through various fabrics I've had on hand in my studio. We quilters call these fabrics 'our stash'. I've been thoroughly delighted to discover the full extend of mine!
Many fabrics in my stash have long before now been grouped together with a pattern and purpose in mind. Sometimes my ideas might even simply be sketched out on a scrap piece of paper. When I find those and am able to fully grasp my original intentions, it's amazing. Often though, not unlike when a cook searches for what recipe can be made from ingredients on hand instead of gathering ingredients for a specific recipe, I find myself having to decide anew what to create with them.
This lap quilt began with just such a bundle… and a door prize won because of my birthday.
At a recent meeting of local quilters, I'd won a door prize because of the proximity of my birthday to the day of the event. This wonderful pattern was designed, and gifted to me, by Debby Kratovil. She is gifted in taking vintage quilt patterns originally designed to be pieced by hand using templates and making patterns for current quilters of all skill levels who now use rotary cutters and piece by machine. She does the math and finds quick rotary cutter tricks to simplify the process.
I was unfamiliar with the "Gretchen" quilt pattern. Its origins date back to the July 1932 issue of the Kansas City Star and was traditionally made using only two colors.
As I was pondering what to make with these fabrics, this pattern on my sewing table caught my eye. It was a combination made in heaven, as they say. It went together easily and was fun to make.
When I had the quilt sandwiched on my longarm and was deciding how to quilt it, my first thought was that it only needed a simply overall meander. I wanted the fabric colors and the pattern to take prominence over the quilting. Too much quilting would make it too stiff to be a lap quilt. But just as I started, my artist eye perceived a light and a dark half of each block as baskets, so I first quilted fun flowers in those baskets and in the four corners of the border, then tied it all together with an overall stipple. Like Warp and Weft , it has an environmentally friendly bamboo, silk, cotton, and tencel batting, making it warm in the winter yet cool enough for summer.
Warp and Weft
75.5″ x 64″
Pieced and free-motion quilted by Sue Hickman Berryville, VA 6/2021
Like "Woven", this quilt is made with a variation on the traditional "split rails" quilt pattern. Large enough for a twin-sized bed, this quilt also makes for a very generously sized lap quilt.
In it, I used a luscious new batting made from environmentally friendly natural fibers [bamboo, silk, cotton, and tencel (from eucalyptus) giving it softness, strength, warmth, and breathability. It is warm in the winter and cool in the summer].
Woven
19.25″ x 45.25″
Pieced and free-motion quilted by Sue Hickman Berryville, VA 6/2021
By making the middle 'rail' wider than the two that flank it, this variation of the traditional "split rails" quilt pattern creates the look of an over and under weave, yielding this "woven" table runner.
Emily's Clementine
29″ x 18.75″
Collaged, thread painted, and quilted by Sue Hickman Berryville, VA 6/2021
This isn't my first venture into collage quilting, but it is the first collage quilt I've completed. Emily's universally appealing topiary design definitely appealed to me! Also, knowing I learn something new from each class I take, I couldn't resist signing up for a virtual class with Emily Taylor. I'd taken Susan Carlson's "swirl/spiral" collage class a number of years ago. They each are quite accomplished collage quilters, but utilize different techniques.
Having experience making collages (first in high school art class using torn paper), I couldn't resist beginning to place my cut fused fabrics on the foundation's background, stem, and vase even before class. In class, Emily gave an excellent presentation of color theory and demonstrated various aspects of her techniques, but participants didn't actually go to work applying fabrics to their design. After class, I couldn't wait to add the leaves and clementines and within a week I'd thread painted and quilted it.
While many a quilter has likely made this quilt, I love that each one is a unique combination of fabrics and quilting artistry.
I have to give a shout out to my dear quilting friend, Bonnie R., for the suggestion of adding in just a touch of orange separating the quilt top from the binding. I love that it draws one's focus to the background details. Otherwise, I agree, the topiary itself would demand all the attention.
Autumn's Song
47.5″ x 46.5″ Sq.
Designed, pieced, thread painted, and free motion quilted by Sue Hickman Berryville, VA 5/2021
Borrowing from Ricky Tims basic principles for converging fabrics into a pleasing design, I converged two gradient fabrics into this quilt, purposing to feature the bird in the design. The warmth of these autumn colors only add to the warmth enjoyed under this lap quilt.
Koi at Play in Escher's Pond
40.5″ x 50.5″
Kaleidoscoped, designed, pieced, appliqued, and custom free-motion quilted by Sue Hickman Berryville, VA 4/2021
I'd long been on the look out for just the right koi in water print fabric to kaleidoscope, when in 2018 I found not one, but two that would do. There was only a little bit of the fabric that was predominantly teal, so I started on this one first.
Like my other kaleidoscope quilts, the hexagon blocks in this quilt contain 6 identical triangle pieces, all cut from just one fabric. As I played with the arrangement of the koi hexagons, I added in Escher like cube features to create a happy place for these koi to swim and play.
Once the center was together (3-2019), I hit a roadblock, so to speak. I knew the overall design I wished to achieve, but wasn't pleased with the fabric options I auditioned for the borders.
I set this aside and made the other, predominately blue, quilt (4/2019). I called that quilt Koi Uncorked. You can read about it on the 2019 page.
Then, for over two years, these koi in teal stared at me from my design wall until finally its time had come.
I dove into my stash and to my delight discovered fabrics that beautifully complemented the center hexagon blocks. [Sometimes good things come to those who wait.]
In keeping with my original design, borders were added in a unique fashion to create the image of a raised concrete rectangular pond.
Finally, custom free-motion and ruler-work quilting completed the quilt and added depth to the design.
As I stand back and look at my two koi pond quilts there are similarities, even though they are each unique and distinct. Both have koi swimming into or out of the ponds, which are also home to dragonflies.
Mimi's Flower Garden
26.5″ Sq
Designed, English paper pieced (EPP), pieced, hand and machine appliqued, thread painting, and custom free-motion quilted by Sue Hickman Berryville, VA 4/2021
I'd come across just a bit of left over border print (from 2020 Drunk on Color quilt) that I simply couldn't let go to waste.
I created the mitered border first to determine how big this quilt could be. Then, as I began to hand sew the EPP hexies into Grandmother's Flower Garden blocks, I came across a circle of denim that my mother had hand embroidered decades ago. It fit in perfectly with the border and EPP blocks I was making. I also used a small flower embroidered on one of my own grandmother's worn linens in one of the hexies.
Once the design took shape and the elements were appliqued in place, I thread painted and custom free-motion quilted it.
Just looking at it brings a smile to my face and makes me happy.
Winter's Wonderland
40″ x 55″
Designed, pieced, and custom free motion long-arm quilted by Sue Hickman Berryville, VA 3/2021
When I think of a winter wonderland, I think of either a blanket of soft white snow or a Christmas market. This quilt encompasses both being a soft blanket of white created as a custom table topper for a Christmas Tree Farm's gift shop.
Simple in design, it incorporates square-in-a-square and nine-patch blocks in scrappy shades of white and cream tone-on-tone fabrics with accents of gold and silver.
Mystery No More
54.5″ Sq.
Pieced and custom long-arm quilted by Sue Hickman Berryville, VA 3/2021
Most quilters have at least heard of Mystery Quilts. They aren't "new" to the quilt world, but this is the first one I've ever made.
This "Scrap Happy Mystery Quilt" was designed by Doreen Johnson exclusively for the Quilters Unlimited guild of which we are both members. Starting in August 2020, our QU President, Sue Heisler, sent out a small portion of the pattern's overall instructions to those who had signed up to participate.
It was a challenge for me to relinquish control over the quilt's overall design and make fabric selections without knowing where (in the design) they would end up or how they would eventually fit together, but I did have fun with the process. The directions were clear and easily followed, and became something I looked forward to doing each month. I couldn't be happier with the end result.
With my extensive free-motion quilting and ruler work completed, it truly is a mystery no more.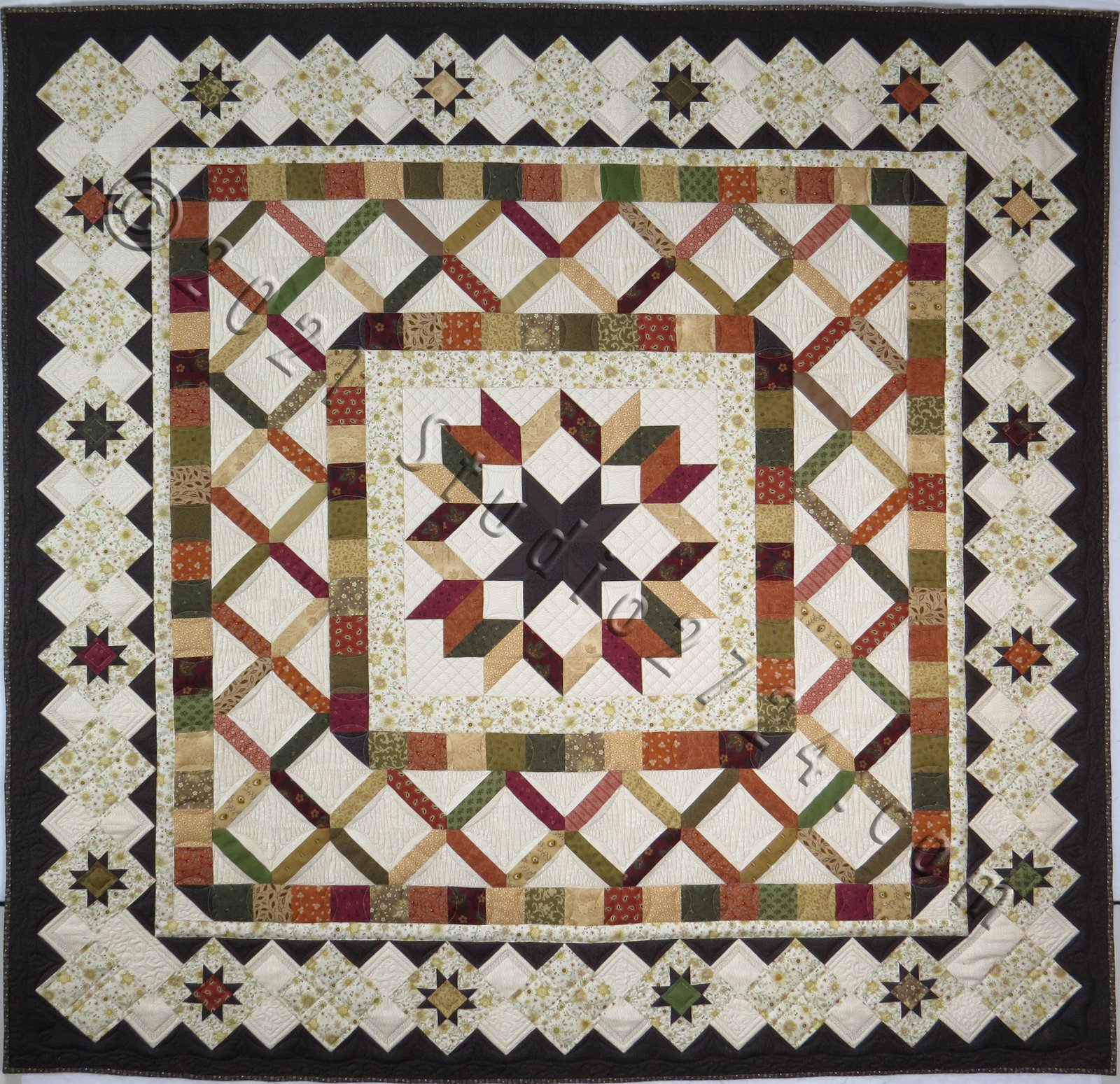 Forever Friends
12″ x 36″
Designed, pieced, and free-motion quilted by Sue Hickman Berryville, VA 3/2021
Though simple in its three log cabin block design, this quilted table runner represents a friendship that is anything but simple. Thirty years ago, my dear friend and I designed and each cross stitched a sampler that represented us: Friends and Neighbors. While we are no longer neighbors, we have remained the closest of friends.
My first thought to commemorate this "anniversary", was to re-create our sampler in a quilt, but that's not who we are any longer.
Instead, I settled on the traditional log cabin block which represents "home", for in our friendship I truly am "at home". The slightly "off" center square is red, which in this traditional block represents the heart of the home, the warmth of the hearth.
The teals and brown fabrics are favorites of hers and she'll recognize the red stripe and blue star fabrics were included to represent me, her "born on Flag Day" friend.
The quilting is a simple loop-d-loop, but a heart is featured in the center over my signature block. Two "blue birds" of happiness sit atop the heart, representing the one in our original sampler, and an evergreen tree flanks each side. Like those in our original sampler, one is a little less "formal" than the other. We know who we are. 😉
Heavenly Rush
34″ Sq.
Kaleidoscoped, designed, pieced, appliqued, and free-motion quilted by Sue Hickman Berryville, VA 2/18/2021
Full name – When a Plan Comes Together, It's A Heavenly Rush!
From the time I first saw the center's fabric, I knew I wanted to kaleidoscope it! The fabric's repeat was small and there was just barely enough to create these hexagons, with two to spare. Once I had a pleasing layout, I set it aside until I discovered the perfect background fabric. I appliqued it centered on this background fabric and again set it aside. I wasn't sure whether to add borders to make it bigger or to trim it down smaller. Finally, I discovered a fat quarter of the perfect binding fabric. With that in mind, I trimmed down the top to be small enough that I would have enough fabric to bind it. The day I put it on my longarm and began to free motion quilt it, I heard Rush Limbaugh had passed away that morning. The next day, I listened to remembrances of Rush all day on TV and the radio as I finished quilting and bound it.
As with all my quilts, I'd long been pondering what to name this quilt. The ethereal green center kaleidoscope brought Heaven to mind, being delicate and light in a way that seems too perfect for this world, and I loved how it had all come together perfectly in due time, and so its name evolved.
God bless you, Rush Limbaugh! Thank you for sharing your talents and wisdom on loan from God! You are missed already, but will never be forgotten! (Rush Hudson Limbaugh III, 1/12/1951-2/17/2021)
Sweet Hearts for My Sweetheart
64″ x 46″
Paper pieced, pieced, and quilted by Sue Hickman Berryville, VA 2/14/2021
I first found Marcia Wachuta's Crazee Patch Heart pattern about 10 years ago. I first made a few, and then every couple of years would make more. This year I started making a few more and then decided this was the year to complete this project. I made it scrappy with bits and pieces of scraps from previously made quilts.
The various hearts represent me and "a few of my favorite things", including (but not limited to): America and patriotism, Easter, Christmas, the beach and sea glass, chocolate and coffee, ALL the seasons, and, of course, Valentine's Day and Sweethearts Conversation Hearts.
My free-motion quilting allowed me the freedom to quilt in a few Conversation Heart sayings, too.
Cats on the Table
14″ X 46″
Designed, pieced, and quilted by Sue Hickman Berryville, VA 2/2021
With my cat lover in mind, I designed this table runner to showcase these sweet cats and the complimentary fabrics, bought while traveling a few years ago with her in mind.
For the Love of Grands
7.5″ Sq.
Paper Pieced and quilted by Sue Hickman Berryville, VA 2/2021
With Valentine's Day right around the corner, and 2 dozen of these paper pieced hearts on my design wall waiting to go into a quilt top, I couldn't resist making this lone heart block to be my Valentine "card" for my Grands, Ryker and Anika. I can't wait to hand deliver it to them for Valentine's Day!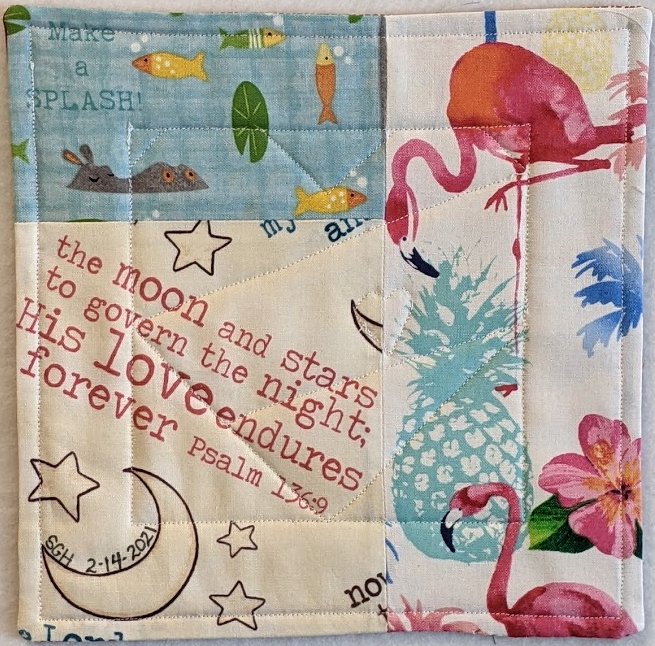 Tumbling into the New Year
66.5″ x 26.5″
Designed, pieced, and free-motion quilted by Sue Hickman Berryville, VA 1/2021
While making scrappy quilts in 2020, I had set aside cheery, bright, bold fabrics cut into tumbler pieces, and played often with their arrangement. By year's end, they'd been on my design wall long enough, so I finished piecing the top.
On the first day of the New Year, I began free-motion quilting it on my long-arm. I stitched in the ditch on both sides of the background strips running between tumbler rows so the colorful tumblers would "pop". For the borders, I created swirls to soften the angularity in the fabric's design.
Finally, I finished up the binding, sleeve, and label on the 2nd and in so doing officially tumbled (creatively) into 2021.
Soft & Cuddly
56″ x 44″
Pieced and quilted by Sue Hickman Berryville, VA 1/2021
Inspired by the discovery of this (old!) precious panel in my stash and the news of a new baby girl joining our extended family, I sought out coordinating fabrics and a minky backing. Once completed, it simply named itself, for it is indeed, soft and cuddly!
(Layout design by Anne Rowan, for Wilmington Prints.)