Because of the Brave – Peace and Comfort was truly a labor of love. I began by adapting Stephanie Hove's Because of the Brave pattern, making it my own. The quilt top was then pieced, appliquéd, and quilted and entered in Moda's 2015 Piece & Comfort Challenge.
Having been born on Flag Day  and possessing a proud patriotic heart, I just had to make this scrappy quilt honoring all our Nation's heroes who have served, serve, and will serve, and their families who love and support them in their sacrificial gift that keeps America free. We ARE free because of the brave!
I also made this quilt in memory of my Army soldier, KLG, Jr. Made in this year that marks the 20th anniversary of his passing, I especially wanted to honor his memory. His calling to military service, like many, stemmed from a heart of patriotism. He loved God and country and faithfully, bravely served them both with his all. At his first duty station with the 82nd Airborne, he earned the level of Jumpmaster. In Germany, he commanded an Air Defense Artillery Company. He was an outstanding soldier and leader, and a wonderful husband and father. Despite military honors bestowed on him, when his death was eminent at the age of 39, it was the love of family that meant the most to him and his only regret was not living to see his two young sons (ages 8 and 10) grow to be men.
My design sets the flag, representing all Americans, behind our military heroes, showing that we "have their backs" and support them in what they do with a heart of thankfulness.  Movement was created with the curvature of the quilting representative of the wave of the flag.  Fussy cut & hidden in the 'white' stripes are the names of all the branches of service & their mottoes.
This quilt participated in Moda's 2015 Piece & Comfort Challenge. Out of the 5 quilts that participated on the local level, it won the most Scrappy Apple Quilt Shop's Viewer's Choice votes making it the local winner. Then as a finalist, it went on to participate in Moda's National 2015 Piece & Comfort Challenge.
This quilt was shown in the 2015 Quilter's Unlimited 42nd Annual Quilt Show at the Dulles Expo Center.  (2015 – Artist's Collection)
These blank note cards are 4 7/8″ x 6 3/4″ and fit perfectly in a standard 5″ x 7″ frame as shown below.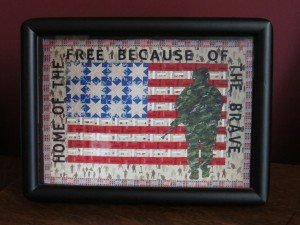 These are currently available for purchase in sets of two (2) for $16.00 by emailing Sue@Studio2724.com .