1st Annual Loudoun Heritage Farm Museum Quilt Exhibit – Fall 2019
It was truly an honor to participate in this exhibit! This museum is extraordinary and such a wonderful resource for families.
Being there for the Opening Reception was fun, but it ranked 2nd to the joy I experienced sharing the museum and exhibit with my grandchildren.
I am truly honored to have my "Blue Ridge – Outback the Shenandoah" quilt numbered among the art pieces selected for inclusion in the new book showcasing the natural beauty of Clarke County, VA !
Sales of the book benefit The Piedmont Environmental Council, a Virginia organization devoted to promoting and protecting the Piedmont area's rural economy, natural resources, history, and beauty.
October 5th, 2018, Clarke's Great Outdoors book launched with a book signing and art show at The Barns of Rose Hill.
Clarke's Great Outdoors book is a collection of photos, artwork, and writing from more than 80 artists inspired by nature in Clarke County.
At the invitation of The Museum of the Shenandoah Valley in Winchester, VA, it was my extreme honor to have 15 of my quilts showcased in an Art in the Halls, Solo-Artist Show from October 18th, 2016 through January 22nd, 2017. To see the quilts included in this show, click here. This 'collection' included.
A See of Three
Amanda's Bouquet
Fern Grotto – Wailua River Falls, Hawaii – Kayaking Kauai
Fractured Floral #8
Fractured Floral #9
Giverney Clos Normand
Hiding in Plain Sight
Lighting the Way Home
Near a Railroad Crossing
Ocean City Bloom
Path to Escargot
Shuffling Hexagons
Tucson Wildflower
View from a Pew
Winchester's War
The Studios at 2724 opened our doors as a part of the Clarke County Artist Studio Tour – Clarke County, VA October 1st and 2nd, 2016.
This tour showcased the art and craft of our Virginia county's talented makers.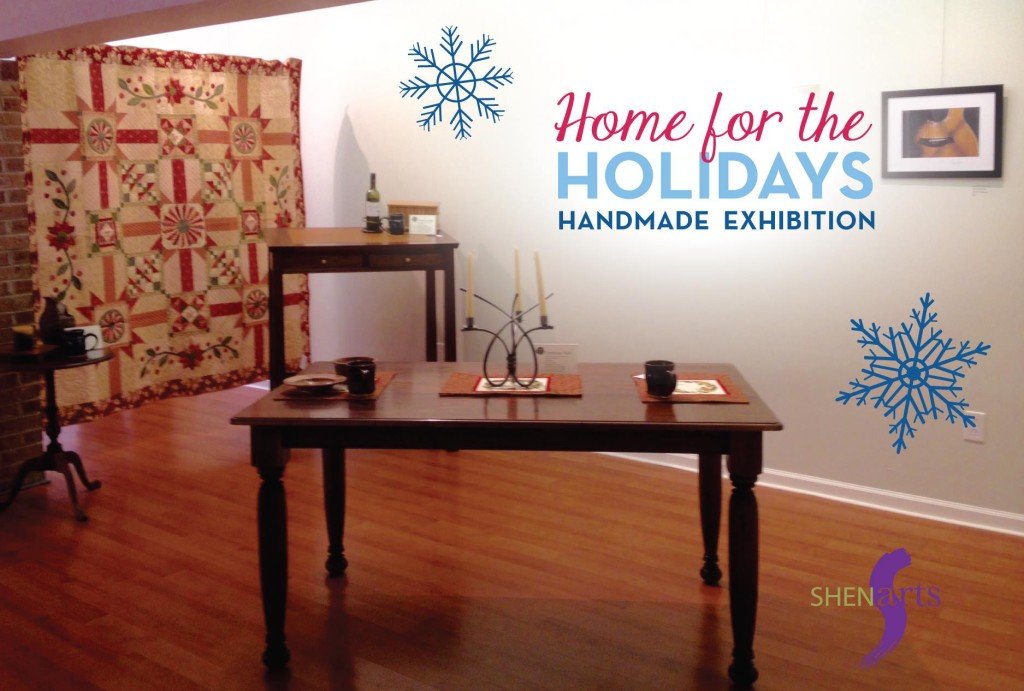 It was my pleasure to participate in the Shenandoah Arts Council "Home for the Holidays" Handmade Exhibition in Winchester, Virginia, that ran from December 4th through the 20th, 2015.
You'll notice pictured here are my "Fruits of the Forest" quilted place mats on the table and my Vintage Christmas quilt (hanging ).
October 30th – 1 November 2015, Clarke County Virginia hosted a "first of its kind" event held at the Fairgrounds in Berryville. It was my privilege and pleasure to have been invited to hang my "Because of the Brave" quilt in honor the Veterans present at The Gathering.
February 15th – March 15th, 2015 – It was my honor to be invited to participate in the Barns of Rose Hill exhibit entitled, "Quilts and their Stories"! Almost every one of my quilts has a story. It was hard to decide which ones to include. Of course, all my quilt stories are told here in the pages of my gallery.
70th Annual Waterford Homes Tour & Crafts Exhibit in Waterford, Va. 10/2013
The "Waterford Fair", as it is locally known, is a juried show of 160+ artisans showing a variety of traditional hand work in this National Historic Landmark Village. The 3-day event also features home tours, reenactments, food, and more. Many come for a day of fun and enjoy seeing exceptional traditional arts created as they watch! It was my distinct honor to be among those invited to exhibit. My quilted creations and note card sets were available in "The Mill" for purchase at this historic event.
December 1st, 2012, I enjoyed visiting with all those who stopped by while I demonstrated quilt making as Berryville's Fire House Gallery "Art of Making Art" featured artist.