Another 'something old' made 'new'… Advent Calendar (27.5″ x 19.25″)
Re-designed and quilted by Sue Hickman     Berryville, VA     12/2018
When putting Christmas decorations, I found an Advent Calendar I'd bought at a craft fair LONG ago. My sons enjoyed counting down the days to Christmas with it each year as very young boys.
When I rediscovered it, the burlap background upon which the tree had been sewn was very badly stained, but the tree still looked great and the ornaments are still all here.
Well, I had to try to give it new life for my grandson. In a few hours time, I had removed the tree from the burlap and red rick-rack, found a suitable background fabric in my 'stash', designed pockets for the ornaments below the tree, sandwiched the top with batting and a backing, quilted, and finished it complete with label and sleeve for hanging. Voila! Better than ever!
Horray! I've completed my first Christmas gift for 2019. 
 
[I don't know what made me search, but before posting I looked to see what other Advent Calendars were 'out there'.
WHAT a shock to find online a pdf pattern ($15) for making this timeless treasure (google – ADVENT CALENDAR PATTERN — felt Christmas tree advent calendar — Christmas countdown)…
But even MORE surprising… I found completed ones available for purchase from $92 – $355… yes, you read that right! You, too, can make your own or simply buy one… ]
Christmas Ornaments
Embroidered and finished by Sue Hickman     Berryville, VA    12/2017
While getting back in my 'creative groove' I stitched up these new Christmas ornaments (chickadeehollowdesigns). They currently hang on my tall quilted Christmas Tree.
It is our tradition to hang ornaments one per day on the 24 red buttons on this tree as we count down the days from Dec 1st to Christmas day.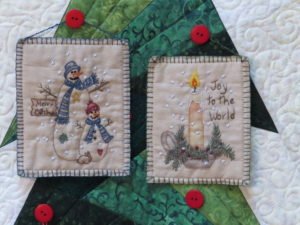 Other Quilted Christmas Creations, and more… (12/2016)
A quilted Christmas stocking for Ryker Kenneth Gauldin, made with love by this Mimi for his very first Christmas.
Wreaths…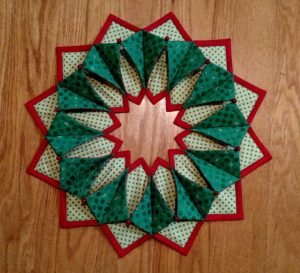 For Brenda and John Ghramm, of Winchester, VA
Marlisa Eyre, of Winchester, VA,
Mary Vorous, of Winchester, VA,
Diane and Jerry Atkison, of Purcellville, VA,
Nancee Groh, of Carlisle, PA and others…
Nancee's shown below with her Peace Wall Hanging:
And a wool applique tree skirt for my sister…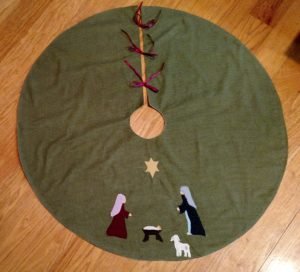 Christmas Twister (17.5″ x 17.5″)
Pieced and Quilted by Sue Hickman       Berryville, Va       12/2012
Artist's Private Collection
For the Christmas Tree
Embellished and quilted by Sue Hickman     Cross Junction, Va     1997
Christmas Angels – 5″ Sq.
Other Ornaments – 3.5″ Sq.
Artist's private collection