Christmas Ornaments
Embroidered and finished by Sue Hickman     Berryville, VA    12/2017
While getting back in my 'creative groove' I stitched up these new Christmas ornaments (chickadeehollowdesigns). They currently hang on my tall quilted Christmas Tree.
It is our tradition to hang ornaments one per day on the 24 red buttons on this tree as we count down the days from Dec 1st to Christmas day.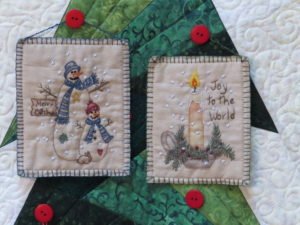 Other Quilted Christmas Creations, and more… (12/2016)
A quilted Christmas stocking for Ryker Kenneth Gauldin, made with love by this Mimi for his very first Christmas.
Wreaths…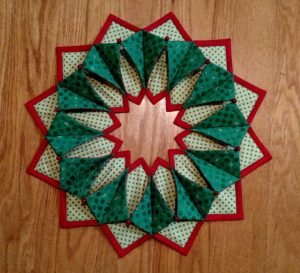 For Brenda and John Ghramm, of Winchester, VA
Marlisa Eyre, of Winchester, VA,
Mary Vorous, of Winchester, VA,
Diane and Jerry Atkison, of Purcellville, VA,
Nancee Groh, of Carlisle, PA and others…
Nancee's shown below with her Peace Wall Hanging:
And a wool applique tree skirt for my sister…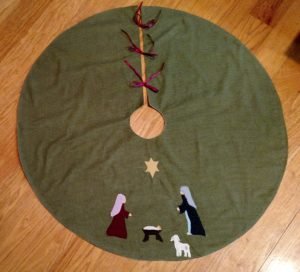 Christmas Twister (17.5″ x 17.5″)
Pieced and Quilted by Sue Hickman       Berryville, Va       12/2012
Artist's Private Collection
For the Christmas Tree
Embellished and quilted by Sue Hickman     Cross Junction, Va     1997
Christmas Angels – 5″ Sq.
Other Ornaments – 3.5″ Sq.
Artist's private collection