INTRODUCING – Because of the Brave quilt note cards.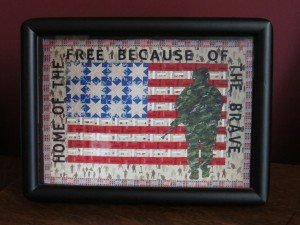 In 2015, I was overwhelmed by the appreciation and love expressed for my Because of the Brave quilt honoring our Nation's bravest and their families who love and support them.
The note cards featuring this quilt are now available in sets of two (2) for $16.00.These 4 7/8″ x 6 3/4″ folded note cards are perfect for sending or framing. As shown below, they fit perfectly in a standard 5″ x 7″ frame. Email me at Sue@Studio2724.com to order yours.
For a limited time, these will be available for purchase individually for $10.00 each at The Museum of the Shenandoah Valley, Museum Store, starting October 18th, 2016.
To see more of what quilted items are currently available for purchase, click on the Quilts and such  link in the upper right hand column. To see other blank quilt note cards available for purchase, click on each one by name under "Sue's Quilt Cards and their Stories".
Should a quilted piece in my gallery not currently listed as "available for purchase" catch your fancy, please contact me directly to inquire about its availability and pricing. Additionally, I do welcome commissioned special requests.