Spring 2020 I wrapped up my last T.O.M. class and, due to Covid-19 concerns, have put further classes on hold.
Discover your "inner quilter"!

Those looking to learn to quilt have many options. They can take many different kinds of classes with a variety of teachers, so why might you want to take a Quilting with Sue quilting class?

"The mediocre teacher tells. The good teacher explains. The superior teacher demonstrates. The great teacher inspires." – William Arthur Ward, American Writer

Top 10 reasons to take a Quilting with Sue class:
#10 – Everyone loves quilts! They provide beauty, warmth, and comfort and soothe the soul. Perhaps you've noticed when quilts are featured on the 'silver screen'. Take this little quiz for a bit of fun and see how many you recognize.
#9 – Some come to hang out with like-minded folks. Others simply find quilting relaxing and rejuvenating when the stresses of daily life take their toll.
#8 – Perhaps you would like to learn to make something you will treasure as a keepsake or give as a forever gift that conveys to the recipient how very special they are to you.
#7 – Is there a special event you'd like to commemorate? Quilts can celebrate a student's graduation in the form of a T-Shirt quilt or welcome a new baby. A signature quilt can commemorate a special family gathering or give friends a format to bid farewell to one moving away.
#6 – Perhaps you regretted that you never learned how to quilt from your grandmother? It is never too late to learn. Whether you are a beginner wanting to learn the basics, or a quilter wanting to build your confidence or explore more advanced techniques, Sue teaches all interest and skill levels and small classes mean you get more personalized instruction.
#5 – Maybe you've been privately building a stash of fabrics and, short of qualifying as a hoarder, you need to learn to creatively put them to good use.
#4 – There is no long-term commitment to taking a class. You can simply check off that line-item on your bucket list, never quilting again if you want… though, like potato chips, it is hard to stop at just one.
#3 – Sue strives first to pass along her passion for quilting and next to see her students successfully complete their quilted piece. While UFO's (un-finished objects) are inevitable, Sue structures her classes with completion in mind.
#2 – While she 'can' and has, Sue isn't satisfied to simply teach her students to re-create a pattern, she delights in teaching techniques that bring out and develop the creative quilter within… and in so doing, Sue successfully inspires her students.
#1 – Sue makes quilting fun!

Encouragement for my quilting students…

An Amish quilter once told me to not worry about making a quilt perfect… and should I ever make a "perfect quilt" I should immediately insert an imperfection, for only God is perfect.

Put another way, Miles Davis said it best, "Do not fear mistakes, there are none."

Previous Studio 2724 classes have included: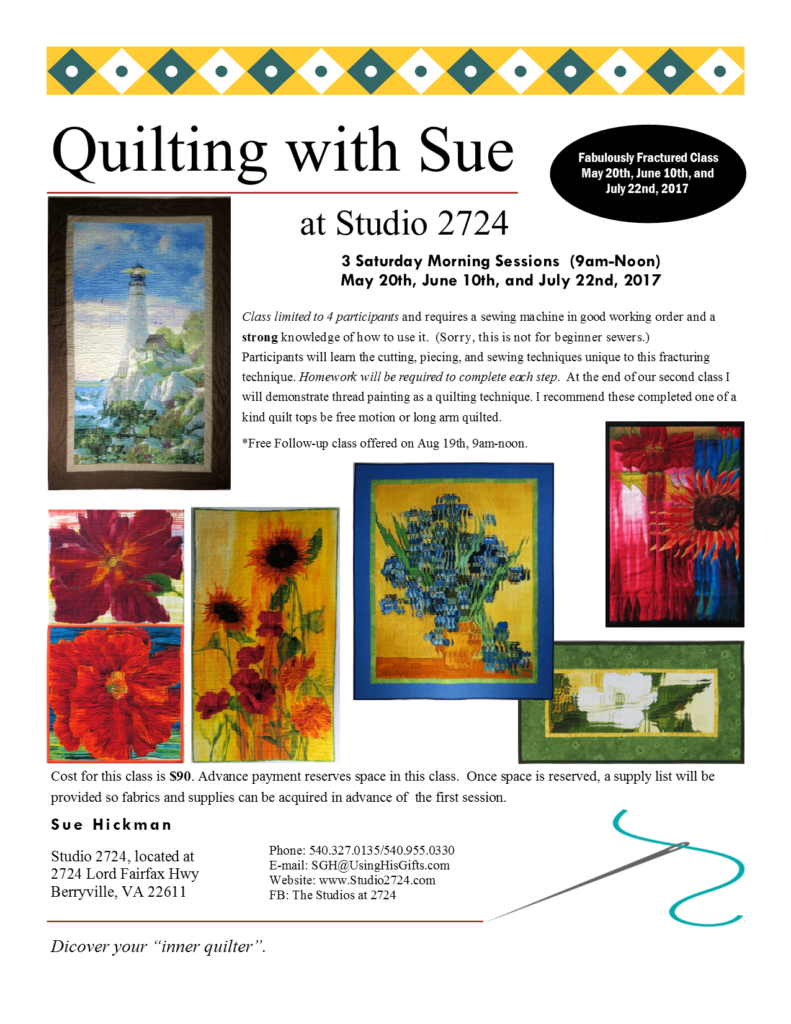 Year-long T.O.M. classes
A skills builder. Students learn a new technique every month.