Beginning – April 2018
A few years ago in my quilting studio I taught what I called my "TOM"/Technique of the Month class. I had great fun planning out 12 blocks that would incorporate 12 different basic quilting techniques and designing blocks to showcase them. I wanted participants to build confidence in their quilt making skills and have a beautiful sampler quilt to showcase their accomplishments. Here's my finished TOM Quilt:
In April of this year, when I saw that the National Quilt Museum (Paducah, KY) was starting a Block of the Month program to connect quilters from all walks of life and engage them in creating their own 12 block sampler modeled after some of the finest and most high profile fiber artistry in the world, I decided to jump right in. Each month, NQM provides a pattern exclusive to the challenge that represents an exhibit currently on display at The National Quilt Museum or a similar theme. Quilters of all skill levels are challenged to experiment with new techniques and expand their horizons as a modern quilter. Each month's block is designed by a unique artist, adding their own personal style to each pattern while still encompassing the theme of the exhibit which it represents.
I feel like I've joined in their "TOM" class, and hope to pick up new skills/techniques to add to quilter's tool box.
Even before the first block's information was released, many participants were sharing on the Facebook page dedicated to this challenge how they'd bought a "layer cake" (to non-quilters, that is a stack of 10" squares of a variety of coordinating fabrics) to give them fabrics from which to choose for this challenge.
I considered that option, but decided, instead, to further challenge myself to draw from my 'stash' of Civil War and similar reproduction-like/antique-looking fabrics, mind you I had no idea what kind of blocks we'd be challenged to make.
April-English Paper Piecing: So, in April NQM had Mr. Domestic (yes, a male quilter) challenging all to make 1 of 2 versions of Bow Tie blocks using English Paper Piecing. I've done EPP before, so I choose the harder block #2 in which the smallest of the pieces is ½" square of fabric. Mr. Domestic showed folks a way to make these with machine piecing, but, being a 'purist', I did my block by hand and I love how it turned out.
May-Dying and Improv Piecing: In May, Regina V. Benson challenged us to create our own one-of-a-kind fabrics using surface design and hand dying techniques. I did my research into dying fabrics. I had two goals in mind for mine. First, I wanted the 'dye' to be natural and the result to, more or less, be permanent. If I was going to all this trouble, I didn't want my dyed fabric to fade or wash out over time. I selected a half dozen white and beige tone-on-tone fabrics and dyed them in pomegranate juice and red beets, hoping for a beautiful shade of red. I'd read that sometimes you can achieve that, but that, more often than not, it would turn a dingy shade of 'dirty beige'… and that it did. Ugh! I didn't like the resulting fabric at all, but still needed to incorporate it into an 'organic, improvisational, pieced' block. When I think of 'improv' pieced blocks, I think 'modern' type quilts and that wouldn't work at all using the fabrics I'd decided to work with… and then I was reminded that 'improv' is nothing 'new'. Quilters created beautiful improv blocks back in the day and, when done, they were called 'Crazy Quilts'. Great! That, I could do! I combined pieces of my hand-dyed fabrics with other from my stash in an improv way and spent the rest of the month hand embroidering over the seams and in the various blocks. I have antique buttons I'll later add to this block to embellish it, but that will be done after the quilt top is quilted.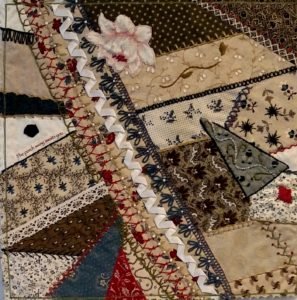 June-Applique and Embroidery: After the previous two more laborious blocks, I was glad June's was not. Once fabrics were selected, machine piecing was easily. This block showcases the work of Japanese quilt artists and utilizes fusible applique to make snow topped Mt. Fuji and the Japanese Red Sun. Finally, I hand appliqued a cherry blossom branch.
With the first three block completed, I searched out a 'unifying' fabric to use to bring these various blocks together. I'm still deciding how I'll 'set' the blocks… with sashing or on point, but there's plenty of time. Going forward, fabric selections will have to work with this fabric and the blocks that came before.
July-Curved Piecing: Annabel Wrigley designed July's "Fly me to the Moon" block. I liked her technique for reverse applique. It was challenging to set my ruler aside and free rotary/improv cut the moon and stripes featured at the bottom. Noting her choice of red, white, and blue stripes at the bottom of her block, and because I made it the day before Independence Day, I varied those stripes to represent a flag and call my block "Moon over America".
August – Fusible Applique: I was so excited to see that the NQM August BOM "Up Close with the Stars" was inspired by the Van Gogh Cherrywood Challenge Dutch Gallery currently on exhibit at the NQM! Given the size limitations of the block, Stephanie Soebbing, who designed this month's block, opted to focus on an up close detail of Starry Night, including the swirling night sky and bright stars and dark iconic Cypress tree.
Having long been a Van Gogh fan, I put these elements of Starry Night into my own Visions of Vincent quilt. It is, along with the other 119 finalists in the Van Gogh Cherrywood Challenge French Gallery, on display at the Bohin Manufacture and Museum in France from August 10th through November 5th, 2018.
As with previous blocks, my personal challenge included creating this block using vintage fabrics. Finding the right fabrics in my stash made all the difference in successfully designing this block. I wanted movement and contrast in the night sky, a twinkle in the stars, and contrast enough between the sky and cypress for it to stand our as a feature, all the while complementing the fabric selections in the previous blocks.
This month, the focus is on the skill of 'fusible applique'. Fusible applique makes applying fabric onto the surface of a quilt top quite easy to accomplish. Sometimes I've secured the raw edges of fused pieces with decorative stitches, but with this block, I'll secure those pieces with quilting stitches once the top is completed.   (Inserted to the right is my Visions of Vincent quilt)
September – Foundation Paper Piecing: Since I've done paper piecing for years, I further challenged myself to try a new twist on paper piecing that uses freezer paper. I only needed 1 template to make all four gliders. This technique worked great and I'd be inclined to use it again.
This being the half-way mark, I'm really proud of myself having stayed the course. I love how my blocks are coming together and have decided on their final layout… but will wait to reveal that until the end. A hint – you'll notice I've put a 'frame' around this block.
I also love that this 'glider' block will always remind me of Ryker's first trip to Udvar Hazy Air and Space Museum (9/3/2018) where we saw gliders up close. It is such fun being his Mimi!
October – Color and Value: This month, Justin Stafford challenged participants to study color and value in this 100 piece block. I was excited to discover my 'stash' was extensive enough to provide 100 different fabrics in my reproduction-like fabrics for this month's block!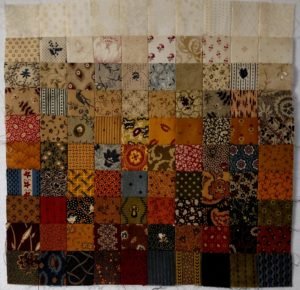 November – Precision Piecing: This month, Faith Jones used the classic Dutchman's Puzzle block as the subject of our block. The tone of her fabric suggestions yielded pinwheels among the flying geese.
December – Foundation Piecing: This month designer Robin Gausebeck took inspiration from the Quilt Japan Exhibition at the NQM and created an off-center block. Areas to the left and right were left blank for unique personal additions.
January – Hand Applique: Inspired by Louis Young's Silversword – Degener's Dream and her own Kauai Blossoms Hawaiian applique quilts, Nancy Ann Sobel designed this month's Hawaiian Dogwoods block combining classic Hawaiian applique with the Dogwood blossom, flora local to Paducah, Ky, home to the National Quilt Museum.
This distinctive style of quilting developed in the Hawaiian Islands during the 19th century, with quilts typically made in two colors, featuring shapes inspired by nature, and circular symmetry in the design.
As one who has many fond memories of trips to the Hawaiian Islands, I love having this unique quilting technique included in this yearlong NQM quilt challenge! As with each of my previous blocks, finding two vintage looking fabrics for this block was a challenge, but my greatest challenge was having hand surgery mid-month. I could have fused or machine appliqued this month's block, but doing needle-turned applique seemed most appropriate. I was able to start this block before surgery and finally, two and a half weeks after surgery I was again able to pick up needle and thread and finish the block before month's end. Wahoo!
February – Pine Cone: Designed by Betty Ford-Smith, this month's block highlights pine cone quilts showcased in the NQM's "Keeping Traditions Alive" exhibit, with the goal of keeping alive the age old tradition of making these unique quilts by hand.
This is an interesting technique and one I'd used before to make Christmas potholders. Because of the thickness of the many layers of fabrics in types of quilts, they often didn't need batting.