Whether the project is big or small, this fun technique is one I enjoy returning to over and over again.
To read more about the making of each of these quilts, check out the tab for the year in which they were made.
Xmas Table Topper (18″ Sq.)
18″ Square
Pieced and quilted by Sue Hickman Berryville, VA 8/2020
Christmas Stocking
(12/2016)
A quilted Christmas stocking for Ryker Kenneth Gauldin, made with love by this Mimi for his very first Christmas.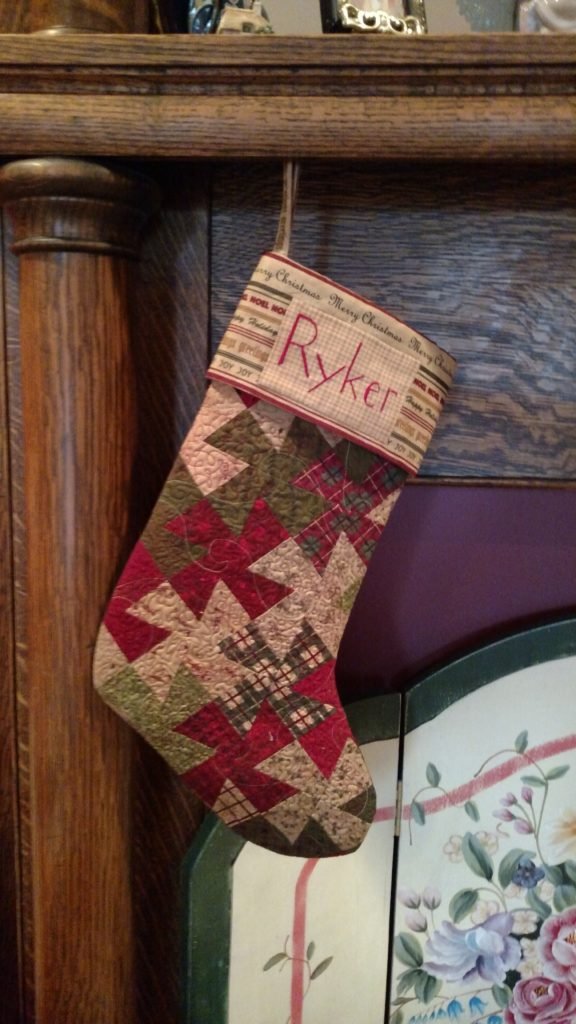 1930s Swing
(39″ Sq)
Pieced and Quilted by Sue Hickman Berryville, Va 2/2014
Celebrating the Patriotic Heart
(38″ x 48″)
Pieced and Quilted by Sue Hickman Berryville, Va 1/2014
Ocean Breeze
(9″ Square)
Pieced and quilted by Sue Hickman Berryville, Va 7/2013
Bloom Where You Are Planted
(30″ x 36.75″)
Pieced and Quilted by Sue Hickman Berryville, Va 4/2013
Sea Twister
(26.25″ Square)
Pieced by Sue Hickman Berryville, Va 2/2013
Christmas Twister
(17.5″ x 17.5″)
Pieced and Quilted by Sue Hickman Berryville, Va 12/2012
Ty Twister
(30″ x 24″)
Pieced and Quilted by Sue Hickman Berryville, Va 12/2012
Fall Leaves Twister
(15″ X 36″)
Pieced and Quilted by Sue Hickman Berryville, VA 5/2012
K-9 and Feline Fun
(34.75″ x 32″)
Pieced and Quilted by Sue Hickman Berryville, Va 2/2012
New London 1
(26.75″ x 18″)
Pieced and Quilted by Sue Hickman Berryville, Va 1/2012
New London 2
(32.25″ x 26.75″)
Pieced and Quilted by Sue Hickman Berryville, Va 2/2012
Table Runner (1)
(7″ x 28″)
Pieced and Quilted by Sue Hickman Berryville, Va 1/2012
Table Runner (2)
(5.25″ x 24.25″)
Pieced and quilted by Sue Hickman Berryville, Va 1/2012
Side Board Runner
(12.5″ x 39.5″)
Pieced and Quilted by Sue Hickman Berryville, Va 1/2012
Table Topper/Wall Hanging
(19.5″ Sq.)
Pieced and Quilted by Sue Hickman Berryville, Va 1/2012
Table Topper / Wall Hanging 2
(17″ Sq.)
Pieced and Quilted by Sue Hickman Berryville, Va 1/2012
Table Topper / Wall Hanging 3
(16″ Sq.)
Pieced and Quilted by Sue Hickman Berryville, Va 2/2012
Table Topper / Wall Hanging 4
(~20″ Sq)
Pieced and Quilted by Sue Hickman Berryville, Va 1/2012
Winchester's War
(10.75″ x 9.5″)
Pieced and Quilted by Sue Hickman Berryville, Va 2/2012
Springtime Blues Table Runner
(46″ x 20″)
Pieced and Quilted by Sue Hickman Berryville, Va 1/2012
Freedom Forever
(51.5″ x 51″)
Pieced by Sue Hickman Berryville, Va 12/2011
Island Punch – Sun and Surf
(21″ x 18″)
Pieced and Quilted by Sue Hickman Berryville, Va 12/2011