Kaleidoscoped Tree of Life
This unique, one of a kind, quilted wall hanging measures 40" wide by 55" tall and features a sleeve for easy hanging.
While often thought to be a symbol of personal growth, strength, and beauty, Sue's Mom loved that in Revelation, the tree of life represented the restoration of the life-giving presence of God. Those who seek forgiveness of sin through the shed blood of Jesus are given access to the tree of life (eternal life).
Inspired by the complementing fabric itself, Sue utilized a 'kaleidoscope" technique to cut six triangles featuring exactly the same part of this fabric's design and used these triangles to create more than four dozen hexagon blocks that fill out the overall design and surround the tree 'panel'.
Rounded lower corners draw the eye back up to the beauty found within the tree.
Once pleased with the overall design, the pieces were pieced together or appliqued then layered with batting and backing and finally thread pained, free-motion quilted and bound.
This quilt was juried in as a Semi-Finalist in the American Quilting Society's Quilt Week held in Virginia Beach in 2018.
Lighting The Way Home
Can you hear the call of the gulls and the sound of the waves crashing into the rocks?
Lighthouses serve to warn mariners of dangerous shallows and perilous rocky coasts, and help guide ships in and out of the harbor.
Seafarers have long appreciated those brave men and women who kept the lights on, showing them the way home.
This beautiful quilt (34" wide by 57" high) was created using a unique piecing technique that takes four pieces of the exact same fabric and incorporates them into one, creating greater depth and movement throughout the piece.
Cut and sewn, then meticulously cut and re-sewn again and again, the scene was then "matted" and framed with border fabrics. It was then further enhanced with extensive thread painting and free-motion quilting.
This quilt was one of those showcased in my Solo-Artist "Art in the Halls" show at The Museum of the Shenandoah Valley in Winchester, VA from October 18th, 2016 through January 22nd, 2017.
Van Gogh Irises Fractured
( 37.5″ wide x 46″ long)
Designed using four of the same fabrics fractured into 1″ pieces, pieced back together, framed by a fabric border, quilted and thread painted by Sue Hickman Berryville, VA 12/2016
Window to the Sea
I LOVE being near the sea! I find the sound of the waves rolling in on the shore to be calming. They also remind me of God's faithfulness, which also never ceases.
What is under those waves deep in the sea is also exceptionally beautiful. This quilt reminds me of those sea treasures discovered when snorkeling.
One fish, two fish, coral red fish… and more. Why?
Because, as Jacques Cousteau said, "The Sea, once it casts its spell, holds one in its net of wonder forever".
Designed, pieced, and free-motion quilted to showcase these beauties, this quilt measures 33" wide by 50" high. It has a sleeve for hanging, but could also be used as a lap quilt.
Bloom Wherever You Are Planted
The basic saying says, "Bloom where you are planted", but have you ever found yourself planted in a place, physical or situationally, where you didn't really want to be, more less bloom?
This quilt represents the notion we can bloom even when planted between a rock and a hard place, like in a crack in the asphalt on the road to our tomorrows.
Bloom – God calls us to use what He gives and be fruitful. Saint Francis de Sales (1567-1622), when Bishop of Geneva, said, "Truly charity has no limit; for the love of God has been poured into our hearts by His Spirit dwelling in each one of us, calling us to a life of devotion and inviting us to bloom in the garden where He has planted and directing us to radiate the beauty and spread the fragrance of His Providence."
Wherever – Life is, perhaps, easier when we are where we 'want' to be, but every life experiences challenging times. Even when life doesn't go according to plan, we have control over how we respond. We can choose to be positive and resilient! Wherever we find ourselves, we can make the best of things.
Planted – Some seeds are planted in good rich soil; other seeds are planted in rocky soil. And, some seeds find themselves between a rock and a hard place. That's when life gets really challenging. But we are not without hope. Even there, God provides sun, rain, and enough nourishment in the meager soil, and if we are willing we can bloom while we wait on Him to transplant us.
A 24" square art quilt. Designed, pieced, hand and machine embroidered, embellished, and free-motion quilted.
True North Star
Traditional in its design, this quilt is made up of black, white, and shades of gray cotton fabric pieces.
Its "Carpenter's Star" center block is surrounded by scrappy square-in-a-square and piano key borders, and reminds me of my True North Star, Jesus.
The North Star anchors the northern night sky. It is a "sky marker" that helps those who follow it determine direction. It also depicts a beacon of inspiration and hope to many.
It is said that when you find your North Star you know where you're headed. Aiming for it will bring happiness.
True North is the internal compass that guides you successfully through life. It represents who you are as a human being at your deepest level. It's your orienting point in a spinning world.
When this you see, remember He… Jesus!
Meticulously pieced and free-motion quilted, it measures 33" square and features a sleeve on the back for easy hanging.
Ready for the Tea Party
I remember as a young girl having special tea parties with my Mom and maternal Grandmother. Fine linen dressed the table where sweet and savory treats were served on revered pieces of china and it was there that I learned how to hold and drink from a teacup, pinkie raised. I cherish the memory of these special times spent with the dearest women in my life.
When my Grandmother passed, I was thrilled to receive special teacups from her collection that I hope to pass to my granddaughter one day.
Yes, I'm sentimental. Maybe you are too?
May we never get too busy in life to stop and smell the flowers we pass or sit and visit with a dear friend while sipping a cup of tea!
This pieced quilt (21" high by 24" wide) was made with cotton and Dupioni silk fabrics and was designed using a traditional "attic window" block.
It is the first in a series of three designed to represent teacups perched on a shelf. With the sleeve on the back, it is ready for hanging.
Tumbling into the New Year
As each New Year begins we can't help but wonder what it will hold for us.
Will it be colorful?
Will it have structure and order?
Will we become wise (like the owl)?
What surprises will we find lurking?
Pieced into simple, traditional tumbler blocks set in a contemporary way inside a modern black and white border, these colorful fabrics make for a conversation starter or fun game of "I Spy".
This wall quilt, measuring 26.5 by 66.5, is also suited to hanging on a door.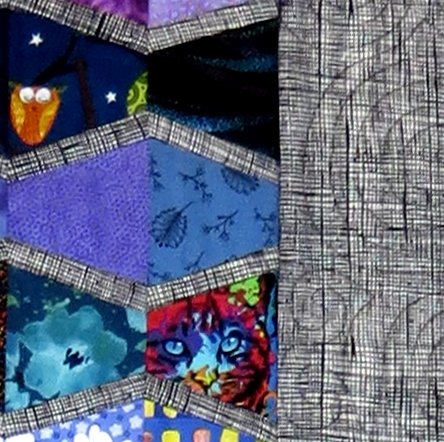 Pretty in Teal
21″ Sq.
This little 21″ square quilt is, indeed, Pretty in Teal, whether hung on the wall or gracing a table.
Thoroughly Modern Mini
Though traditionally pieced with old-world reproduction fabrics, this small quilt has a thoroughly modern look and feel to it.
It measures 13.5" wide by 17" high and features a sleeve for ease of hanging.
Fractured Floral #13
(21″ wide x 15″ long)
Fractured into 1″ pieces, pieced, thread painted, and quilted by Sue Hickman Berryville, VA 6/2017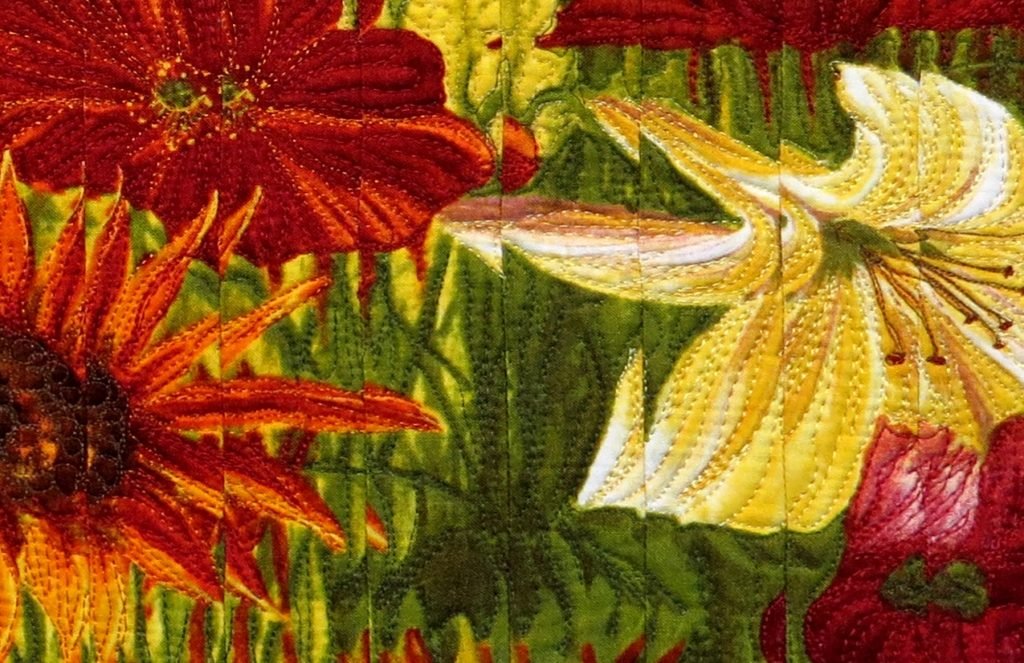 Fractured Floral #12
(25.75″ wide x 14″ long)
Four fabrics fractured into 1″ pieces, pieced back together, framed by a fabric border, quilted and thread painted by Sue Hickman Berryville, VA 10/2016