My name is Sue Hickman and I've quilted since my early 20's. I started with applique, hand piecing, and hand quilting, because that was the way things were done before we had the rotary cutter. Over the years, I began to machine piece and later to machine quilt, but my pieces were always somewhat traditional. Once I had quilts on my beds and walls and tables, I began looking for new quilting techniques to keep my creative juices flowing and, as my personal confidence grew, I began sharing my quilts with other local quilters.
The first challenges I entered were offered within my own local quilt group. The first one had us using the same 12 fat quarters in a quilt of our own design. I called this one "Birds, Blooms, and Butterflies".
The second challenge I accepted was called a Triple Play Challenge. We were asked to make a 36" square quilt that contained a triangle and one other "three". I call this quilt "A See of Three".
While I'd created quilts of my own design before, these challenges took me out of my comfort zone and stretched me creatively.
The definition of an adrenaline junkie is, "A person with a compulsive desire for excitement and adventure." Quilting, and specifically these challenges, offer me just that… excitement and adventure of the creative kind.
In 2012, my local quilt group had a charity quilt challenge. Mine won second place in the eyes of the viewers and a cash prize, and the quilt went on to be given to a patient through  Winchester Medical Center's chemotherapy office. I call this quilt "Freedom Forever".
In 2015, Moda offered a Piece and Comfort Challenge. Participants used their military themed line of fabrics to create quilts that were first judged by viewers on the local level. My entry was a local winner and went on to compete, but didn't win, at the national level. I call this quilt, "Because of the Brave – Peace and Comfort".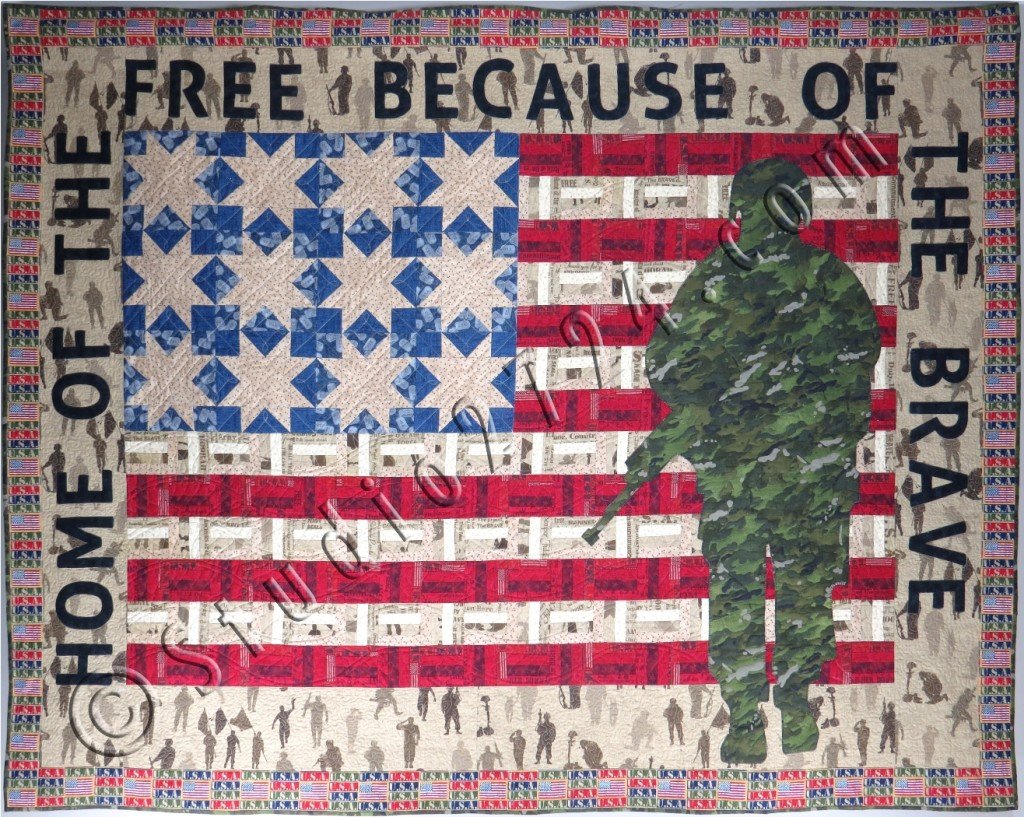 In 2016, my Fractured Floral #3 quilt was selected by the Old Town Development Board and the Shenandoah Arts Council as a finalist in their annual Artscape Banner Project.
It was the first quilt to be chosen as a finalist in this annual project. The original pieces hung in the Museum of the Shenandoah Valley's Art in the Halls Exhibit for 3 months. Banners created of the winning pieces hung on Winchester's Old Town Walking Mall for a year.
At the opening reception for the Art in the Halls Exhibit, I was approached by the museum curator who had looked at my website. He invited me to have a Solo-Artist Showing of my quilts at the same venue the next year.  That was exciting, and when my sons saw 15 of my quilts hanging in a solo-artist's show in a highly respected museum, they finally 'got it' that their Mom wasn't the stereotypical quilter.  I no longer worry that my quilts will end up sold at a garage sale or donated to Goodwill when I'm gone. They now have a greater appreciation for my work.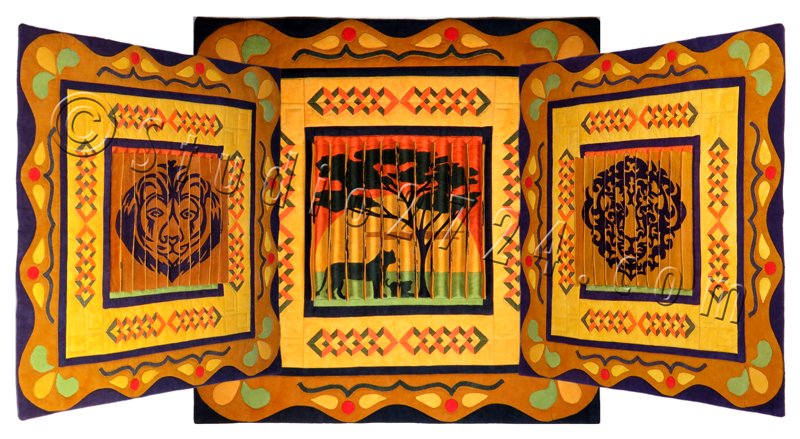 When I entered Cherrywood's Lion King Challenge in 2016 they challenged us to use 4 of their hand-dyed solid fabrics to create a lion king themed quilt, but my passion was stirred when I challenged myself to think outside the box to create a totally new kind of quilt. While my quilt was inspired by Flora Joy's trispective 3-in-1 quilts that I'd seen, I created my own 3 designs and a method for making this kind of quilt using totally traditional quilting techniques: hand and machine applique and piecing and machine quilting. I later learned that in her trispectives, Flora Joy uses Photoshop to combine three images that are then printed on fabric.
I've had two quilts touring with exhibits.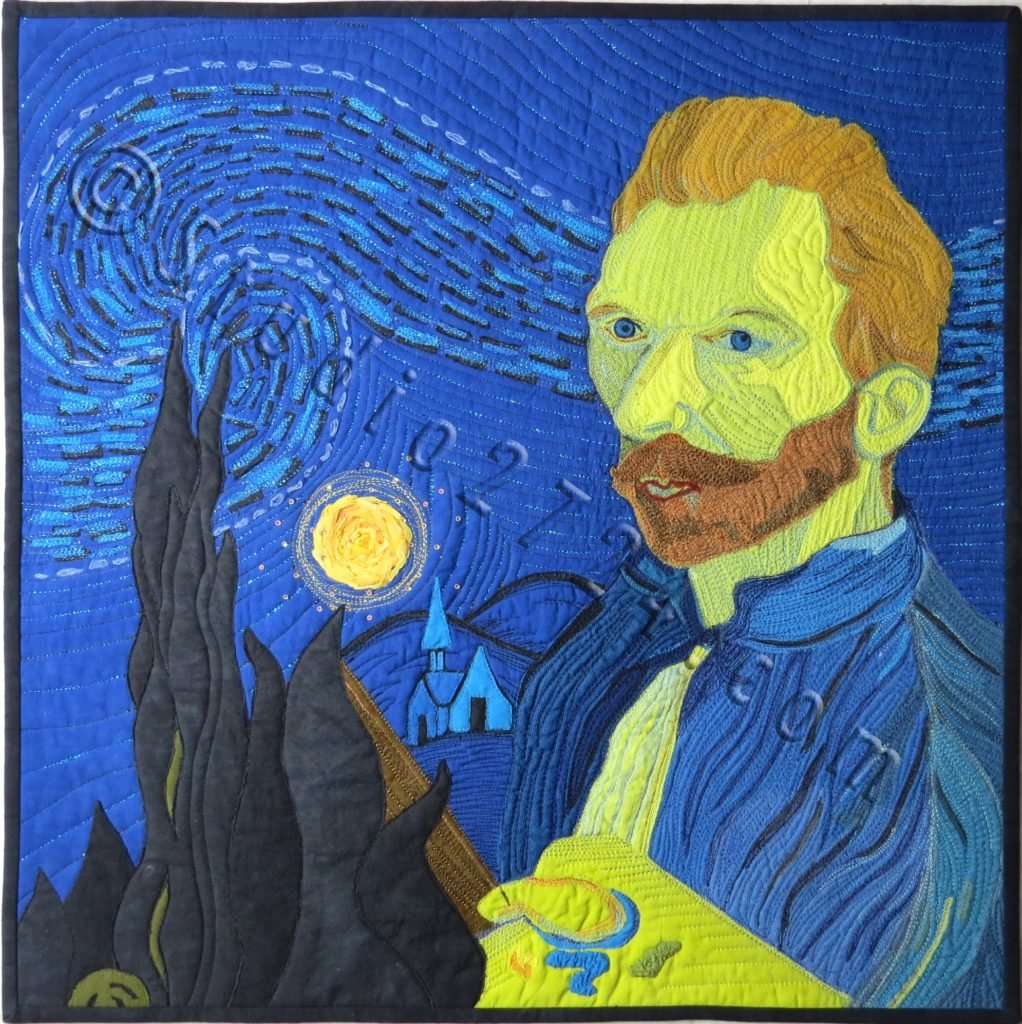 My Visions of Vincent travels with the 2016 Cherrywood Van Gogh Challenge 120 finalists in the "French Gallery". The French Gallery will finish up its travels in France at the Bohn Manufacture and Museum later this year.  This is my first real "Art Quilt".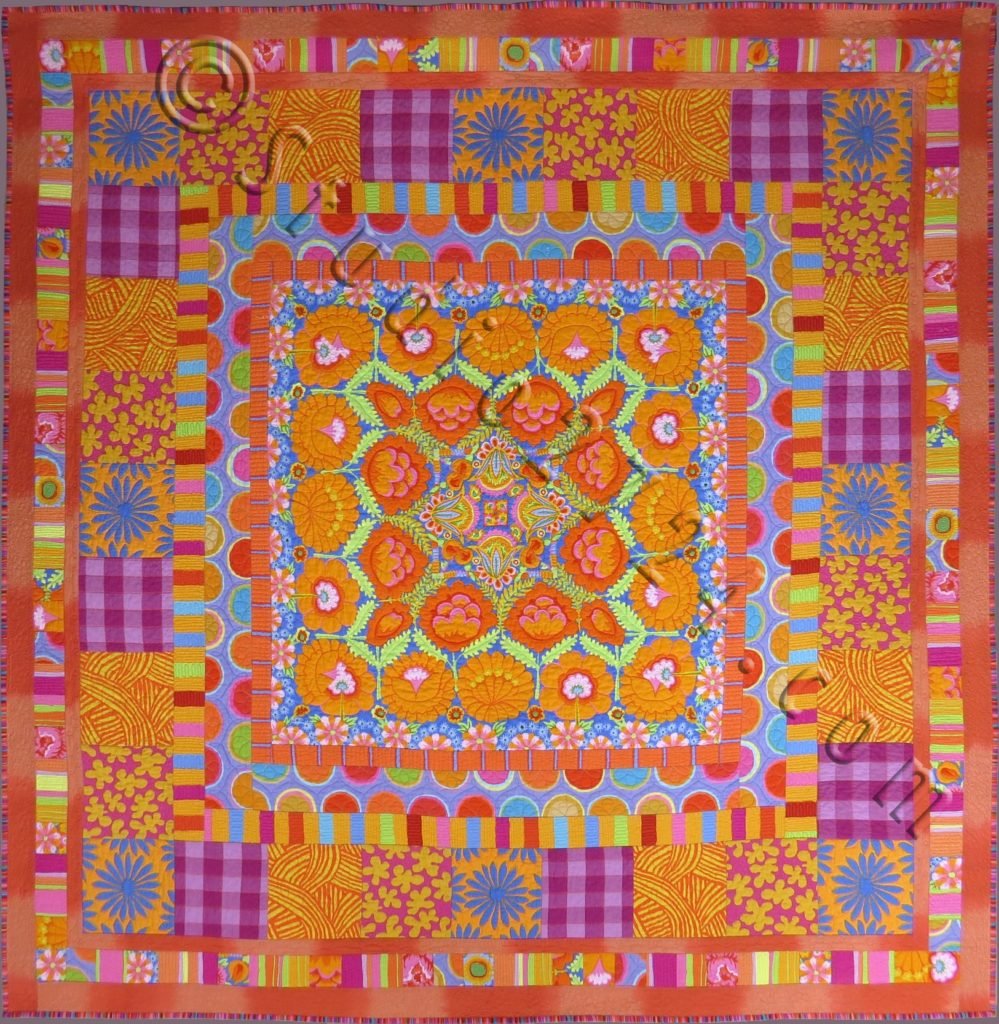 Additionally, my I Am an Artisan quilt was one of 14 finalists in Kaffe Fassett's I am an Artisan Challenge. That exhibit made its debut in Houston and wraped up its travels in Chicago at the International Quilt Festival there. Lastly, it hung with the exhibit in the National Quit Museum in Paducah, KY.
If you'd like me to bring and share my challenge quilts with your group and share insights about things to consider when entering a challenge, please contact me through my email listed below. I'm passionate about quilting and delight in inspiring quilters to think creatively 'beyond the pattern' and to boldly step out in sharing their quilt creations.