Each quilt is special, but memorabilia contained in these quilts evoke cherished memories and hold extra special meaning for their owner. Each one tells a story.
What differentiates a Memorabilia quilt from others that also hold special meaning is the use of "memorabilia". Typically, such memorabilia fabrics might come from T-shirts, men's ties, tid-bits of a child or woman's clothing (such as lace collars, for example), handkerchiefs, and even golf towels. Fabrics might also capture an actual moment in time such as hands traced by family members (as shown below).
Memorabilia fabrics are not limited to the typical 100% cotton quilting fabrics. They might include (but are not limited to) T-shirt knit fabric, wool, silk, and even tufted toweling (as shown below).

(If you would like to have a keepsake quilt made, please email me. It is my honor to make memorabilia quilts that will become timeless treasures!)
A Few of His favorite Things
(52″ x 44.5″)
Designed, pieced, and quilted by Sue Hickman Berryville, VA 12/2019
Though not as long as family and friends would have liked, Kenneth Feist's was a life well lived. My hope is that this memory quilt will be a comfort to his wife Nancy, his sons, and grandsons, too, until one day they are reunited in Heaven. (11/7/1947 – 10/22/2019)
Jerry's Quilt
(60″ x 48″)
Designed, pieced, quilted by Sue Hickman Berryville, VA 1/2019
A quilt memoralizing our dear friend, Ohio native and Ohio State fan extraordinaire, beloved husband, father, PopPop, Jerry Atkison (2/3/1957 – 1/30/2018).
Made using his own, very dapper button-down shirts, Ohio State logo'd polo shirts and laynard, family photos, Disney t-shirt, and work insignia, it is my hope this quilt will hold treasured memories close while offering warmth and comfort to his Diane.
While making this quilt, I learned it is quite an honor for an Ohio State band member to "dot the 'i'" at a game. As I free-motion quilted it, I couldn't help adding the description "Beloved", for Jerry surely was that by everyone who knew him, and I also inserted "Ohio" and ceremoniously dotted the "i" in Jerry's honor. Until we meet again, Jerry…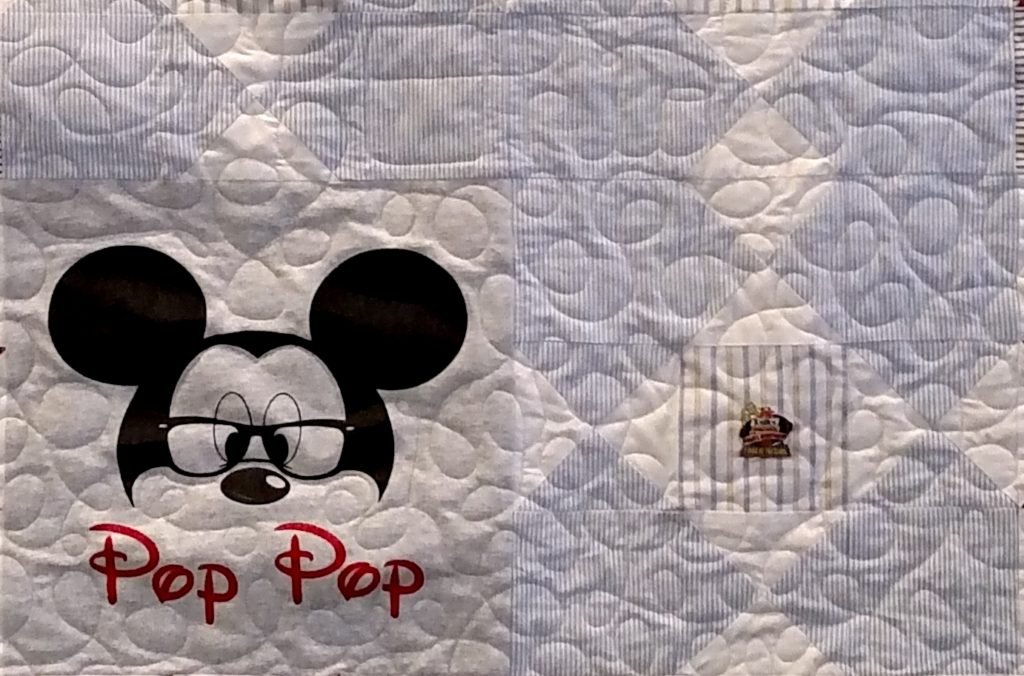 Fond Memories of ADG's Youth
(53″ x 46″)
T-Shirt Quilt – Original Design, Pieced by Sue Hickman Berryville, VA 3/2012
The cherished "memorabilia" contained within this quilt are shirts and T-shirts from ADG's youth that hold special meaning for him, including: 2 trips to Hawaii, Junior Classical League (Latin), Eagles Basketball, Gibson Guitar Factory Tour, PHC (Journalism & Spy Camps), RBC Summer Camps and Bike Trip, SEMP & England Mission Trips, BOCC, and JMU… and all the days in between.
Golfing Memories "Fore!" Dad
Queen-sized
Designed and pieced by Sue Hickman Berryville, Va 10/2010
The cherished "memorabilia" contained within this quilt are the actual golf towels my father gathered on his golfing travels across England, Ireland, and Scotland. My father was quite the golfer in his prime! When he began treatment for cancer, he asked me if I might be able to make a quilt from these towels he had collected over the years. I not only made the quilt, but he was able to sleep under it before his passing a few weeks after it was completed.
Father's Ties
(40″ x 36″)
Designed, pieced and hand quilted by Sue Hickman Cross Junction, Va 6/1999
This quilt, made for the occasion of Dave Hickman's first Father's Day, incorporated fabrics provided by clothing from the special fellas in my life. It commemorates fathers, past, present, and future, with hopes that my boys will one day be also be fathers.
The cherished "memorabilia" contained within this quilt are the favorite shirts, an Army uniform, and ties from my both my husbands that make up the blocks of this quilt.
A Family Tree for the Drake's 60th Wedding Anniversary
(70.5″ x 43″)
Designed and pieced using family members' traced hands and Hand Quilted by Sue Hickman El Paso, Tx 1993
This quilt was made and given to my grandparents [William & Vivian (Mimi) Drake] on the occasion of their 60th wedding anniversary. As a cherished treasure, it hung in their home in Green Valley, Az, and later in my grandfather's room at Westminster Canterbury in Winchester, Va until his passing. My sister-in-law was pregnant at the time of its making, thus the heart inside her hand. Spouses and children born after its making were represented by hearts later added. It notes: "Memories we collect and give brighten our lives as long as we live."
The cherished "memorabilia" contained within this quilt are the hands of each family member traced at the time of its making. Each one captured a precious moment in time, but for my (then) young boys, being able to put their hand on their dad's as they grew up was priceless. Their dad passed away just three years after the making of this quilt.

It was my pleasure to share this quilt and its story in the Barns of Rose Hill "Quilts and their Stories" exhibit February 15th – March 15th, 2015.