I love quilting and I've enjoyed teaching others to quilt where ever I've called home! Now, I am delighted to be able to offer classes in Studio 2724.
You can see upcoming class information on the Quilting with Sue, Quilting Classes tab on the right. There you will also see photos of ongoing and past classes. We do have fun!
*NOTE: Starting Fall 2017 I will be taking some time off from teaching classes to have my knees replaced. Yup… it's my turn for this surgery. If interested in taking a Quilting with Sue class, contact Sue directly and let her know of your interest.
Quilting with Sue Studio Quilting Classes general information:
Space is limited, and available on a first come, first serve basis.
Classes require a sewing machine in good working order and a basic knowledge of how to use it.
Participants can expect to learn cutting, piecing, applique, quilting & embellishing techniques, as well as how to bind and "finish" a quilt with a hanging sleeve and a label, as projects dictate. A supply list for each class is provided so supplies can be acquired in advance of the first session. Advance payment reserves space in the class.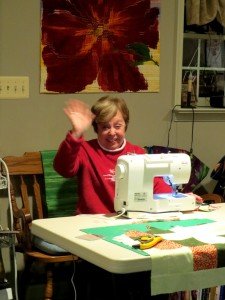 Frequent Class Topics cover:
Quilting Basics, including: fabric selections, rotary cutting, the 1/4 inch, piecing with precision, machine & hand applique, paper piecing, English paper piecing, settings, borders, bindings and other finishing techniques, hanging sleeves, and quilt labels.
Fracturing Technique
Kaleidoscope Technique – Hexagons and Octagons
Twisted Techniques
… just to name a few.
If you'd like me to come and teach a quilting class in your venue, just email me. It is my pleasure to share my passion for quilting with quilters of all levels.
Traveling Trunk Show Topics and Talks include:
Piece and comfort for the eye, heart, and soul.
Quilts and their stories.
Demonstrations include:
Twisted Technique
Paper Piecing
English Paper Piecing
Rotary Cutting Basics
Free Motion Quilting
Lastly, it's not often that I get to see quilts made in a Quilting with Sue quilting class or quilts that I've made in use in their "new home", but here are some examples. Sharon W. sets a lovely table in both her dining and living rooms!