Announcing the start of a new Kaleidoscope class – Fall 2019 
TOM – "Technique of the Month" class began on April 6th, 2019. Monthly classes continuing throughout the year, into Spring 2020.
If interested on joining this class, please email me at Sue@Studio2724.com .
---
Discover your "inner quilter"!
Those looking to learn to quilt have many options. They can take many different kinds of classes with a variety of teachers, so why might you want to take a Quilting with Sue quilting class?
"The mediocre teacher tells. The good teacher explains. The superior teacher demonstrates. The great teacher inspires." – William Arthur Ward, American Writer
Top 10 reasons to take a Quilting with Sue class:
#10 – Everyone loves quilts! They provide beauty, warmth, and comfort and soothe the soul. Perhaps you've noticed when quilts are featured on the 'silver screen'. Take this little quiz for a bit of fun and see how many you recognize.
#9 – Some come to hang out with like-minded folks. Others simply find quilting relaxing and rejuvenating when the stresses of daily life take their toll.
#8 – Perhaps you would like to learn to make something you will treasure as a keepsake or give as a forever gift that conveys to the recipient how very special they are to you.
#7 – Is there a special event you'd like to commemorate? Quilts can celebrate a student's graduation in the form of a T-Shirt quilt or welcome a new baby. A signature quilt can commemorate a special family gathering or give friends a format to bid farewell to one moving away.
#6 – Perhaps you regretted that you never learned how to quilt from your grandmother? It is never too late to learn. Whether you are a beginner wanting to learn the basics, or a quilter wanting to build your confidence or explore more advanced techniques, Sue teaches all interest and skill levels and small classes mean you get more personalized instruction.
#5 – Maybe you've been privately building a stash of fabrics and, short of qualifying as a hoarder, you need to learn to creatively put them to good use.
#4 – There is no long-term commitment to taking a class. You can simply check off that line-item on your bucket list, never quilting again if you want… though, like potato chips, it is hard to stop at just one.
#3 – Sue strives first to pass along her passion for quilting and next to see her students successfully complete their quilted piece. While UFO's (un-finished objects) are inevitable, Sue structures her classes with completion in mind.
#2 – While she 'can' and has, Sue isn't satisfied to simply teach her students to re-create a pattern, she delights in teaching techniques that bring out and develop the creative quilter within… and in so doing, Sue successfully inspires her students.
#1 – Sue makes quilting fun!
Encouragement for my quilting students…
An Amish quilter once told me to not worry about making a quilt perfect… and should I ever make a "perfect quilt" I should immediately insert an imperfection, for only God is perfect.
Put another way, Miles Davis said it best, "Do not fear mistakes, there are none."
---
Previous Studio 2724 classes have included: Fabulously Fractured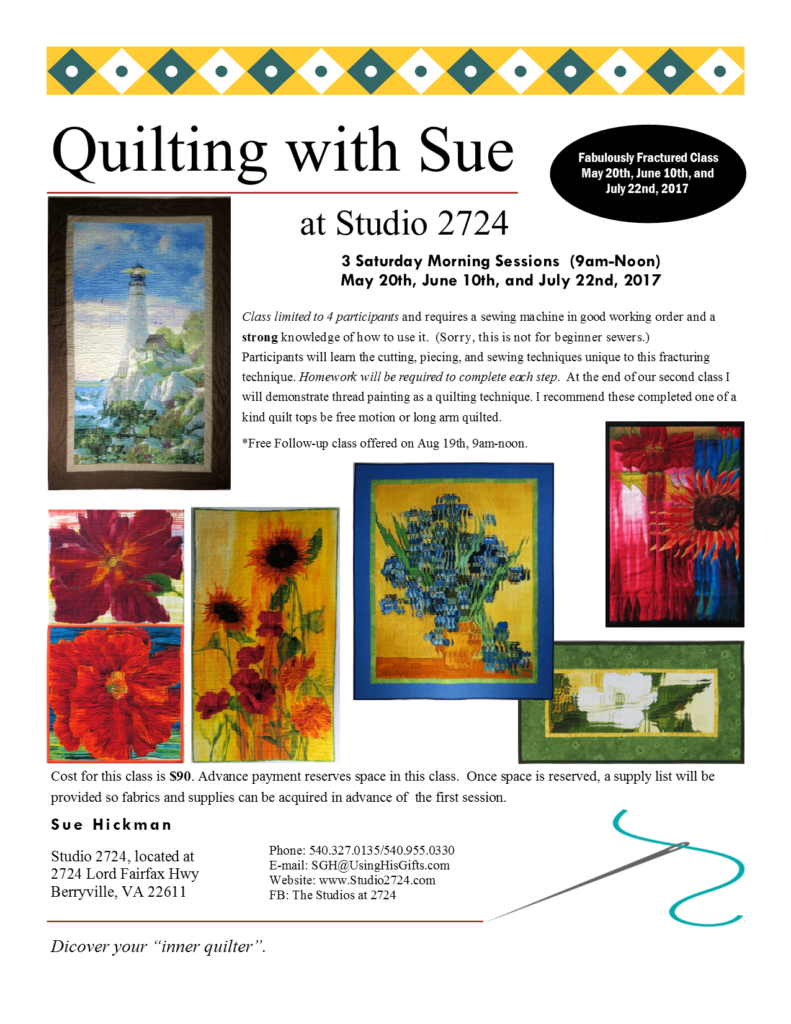 Below are the fabrics we started with.
Here are some of the completed creations…
Front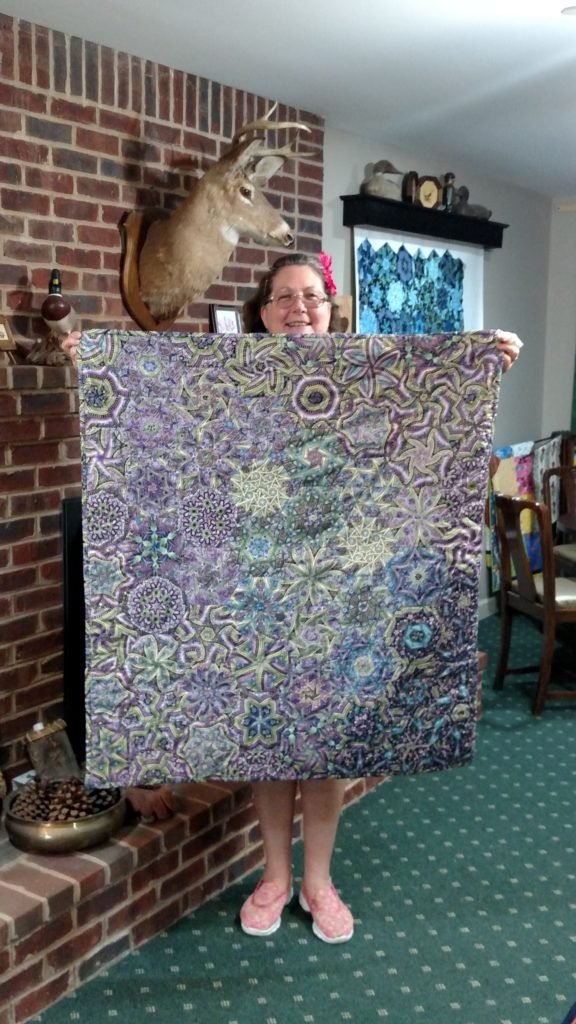 and back
More "Fabulously Fractured" creations…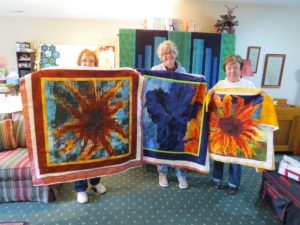 Scraps, Born Again!
This quilt was a lot of fun to make! I loved cutting the pieces that became these 220 colorful triangles. Throughout the process, many reminded me of the first quilt I'd made using that unique piece of fabric. I'd completed the top and quilted it and hung it on my design wall to photograph before I discovered the "cross" hidden in the overall design, and that made me love it all the more… and helped me decide on its name, Scraps, Born Again.
This one-day quilting "primer" is for those who would like to give scraps from their stash new life. The quilt can be as big or small as the stash or need dictates.
Hearts-A-Plenty… in time for Valentine's Day
Do you buy Valentine cards to give each year? This year I decided to make some Valentine Quilt cards… with a "label" they are all set to be mailed. What does one "do" with a Valentine Quilt Card you might be wondering (besides enjoy the hand-made heartfelt sentiment)… these could be hung on the wall or used as a table-top coaster.
*A footnote… With Happy Valentine wishes to sweethearts everywhere! After seeing the Valentine I made him, my sweetheart used the pattern to surprise me in return. He made his own Forever Valentine in his wood shop, proving once again he can do with wood practically anything I can do with fabric. I LOVE how, when placed side by side, our two hearts lean into one another! Oh happy, happy, joy, joy!!!
Still twisting after all these years... and Eleanor Burns's got nothing on us! From piecing to 'twisting' to free-motion quilting to binding… this quilt was accomplished in one long, fun, quilting session. Goal… to learn, and gain confidence in free motion quilting. (10/2016)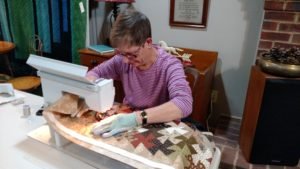 I just love table runners!
Perhaps it is the Interior Designer in me… putting a "fresh face" on a room, transforming it with simple pops of color perk up my "mood" and help the transition from season to season.  Even though these are "small", each one genuinely is a quilt from the piecing and/or applique to their finishing, they are every bit as much a quilt as one that covers a bed. Their manageable size make them the perfect place for new quilters to begin or for more experienced quilters to perfect their skills.
That's why I'm began 2016 with this Pole with a Twist Table Runner class. (I love this table runner Ginny made in class!)
In 2015, we "Fractured" and "Twisted" things up in Studio 2724…
Ta Da… I am pleased to present my completed 2014 T.O.M. [Technique of the Month] Calendar Quilt I call "A Colorful Year".
These scrappy blocks were unified with a yellow print sashing and inner border and a piano keys outer border that incorporated the many scrappy fabrics used throughout the making of the quilt.
Quilting with Sue – T.O.M. 2014  Student Quilt Tops… aren't they beautiful!!!
In our December T.O.M. class, participants will make "Flying Geese 2 Ways" and incorporate both techniques in this Flying Geese block which will represent the month of September in our finished Calendar Quilt.
Participants learned to do a create a simple "Stack-N-Whack" for our November Block.
October's "Circle Magic" class taught participants to make "perfect circles" and a "circle frame". In the process of finishing these blocks machine embroidery stitches were utilized.
In September, our class chose to make the planned 'December Santa/Star Block' so after class they might have time to make smaller versions of the block as ornaments in time to give at Christmas. This Paper Pieced block makes a 'star' or a 'Santa' depending on the fabric colors chosen.  The smaller "Santa" ornament block was finished 'on point'.
Because it is just so much fun to make, I call our August class, "Party Time". Below is the block that will go into my quilt at year's end and a table runner (12″ x 36″), too.
For July's class, I designed a summer themed block using a continuous line drawing intended to create positive and negative pieces that were then fused and machine appliqued onto two other pieces of fabric. Thus, 1 design created two blocks. Below, I used a triple border on one of my resulting blocks making this table topper called Treasures in the Sand that measures 20.5″ square.
Aren't these Treasures in the Sand blocks spectacular?
Sharon doubled her efforts to make the beautiful wall hanging below.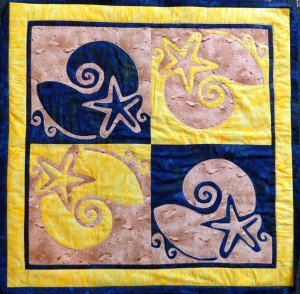 In honor of Father's Day in June, I taught participants two different ways to make a "Bow Tie" block. One is regularly pieced and the other is 3-dimensional.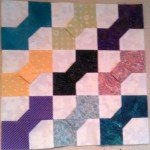 I call this table runner (15″ x 27″), "Black Tie. White Tie. Formal." Its blocks are traditionally pieced. [This is a color photo. These fabrics are black and white prints.]
This lap quilt I call Summer-ties (or Waves of Summer)  measuring 42″ x 60″ is made entirely of 3-dimensional bow ties.
Participants made these blocks for the quilts they are making at year's end.
In honor of Mother's Day, May T.O.M. class participants discovered English Paper Piecing and the traditional Grandmother's Flower Garden block. This Spring Garden table topper is my modern interpretation of the classic.  (Another example of an English Paper Pieced quilt can be found on the "2014" tab to the right. It is my "I-Spy With My Little Eye" and it is a fun quilt for kids of all ages to enjoy.)
 Janet's interpretation is stunning in Red & White!
In April's T.O.M. Class (Technique of the Month) participants made this Precisely Crossed block / table topper while practicing 'precision' in both cutting and piecing skills. Now 1/3 the way through our year long T.O.M. classes, participants have also discovered that difficult looking blocks can be simple to make and blocks that look simple can be quite challenging.
This month we added Precisely Crossed blocks to our T.O.M. quilt collection…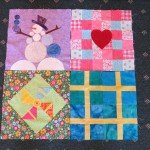 In our Fractured Floral Classes we welcomed spring. Participants learned this unique piecing technique and gave thread painting a try.
In our March T.O.M. Class, we created 3-D Windmills in honor of this windy month.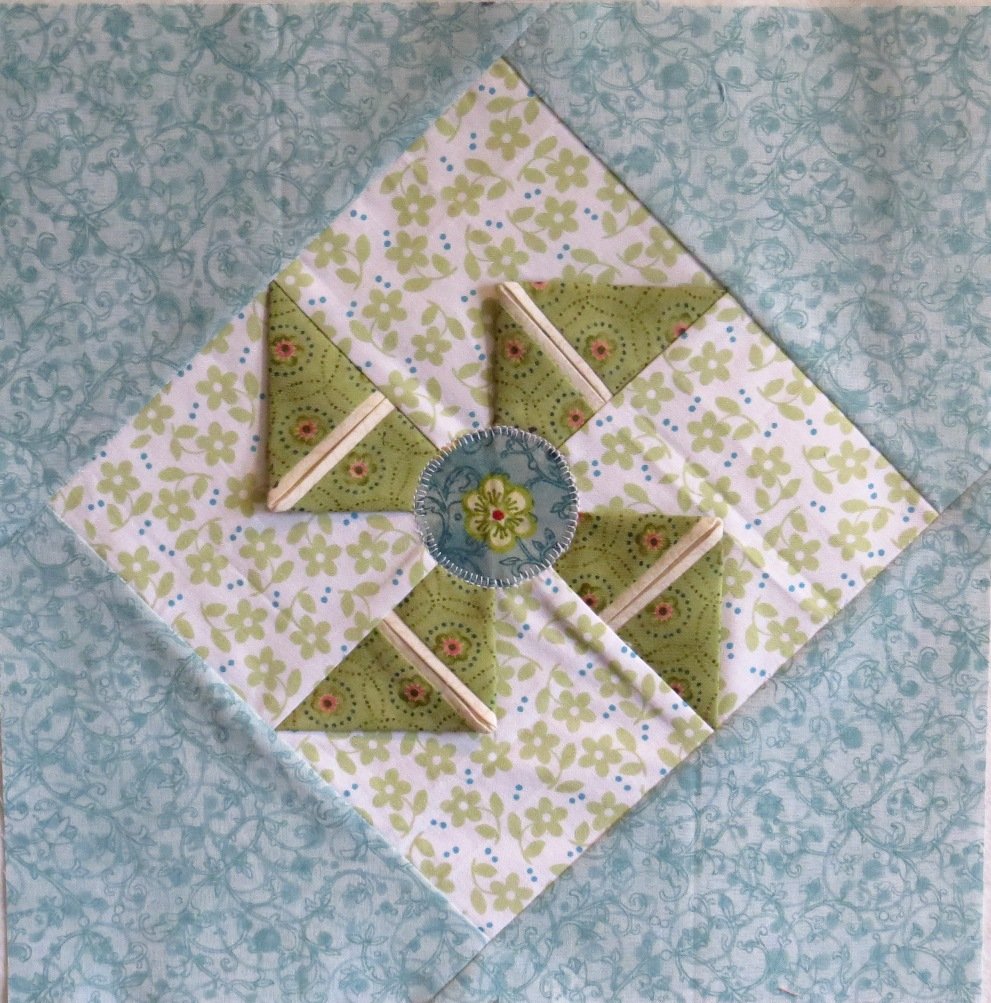 I just love these bright, cheerful 3-D Windmill  table runners!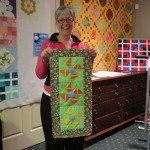 February T.O.M. Class focused on strip piecing and wool applique. Participants made one heart block to go into a Calendar Quilt at year's end and they also made these darling quilted baskets with endless uses. We decided baskets in spring colors would make wonderful Easter baskets and that these sweet, soft baskets would also be nice made in patriotic, autumn, and even Christmas fabrics.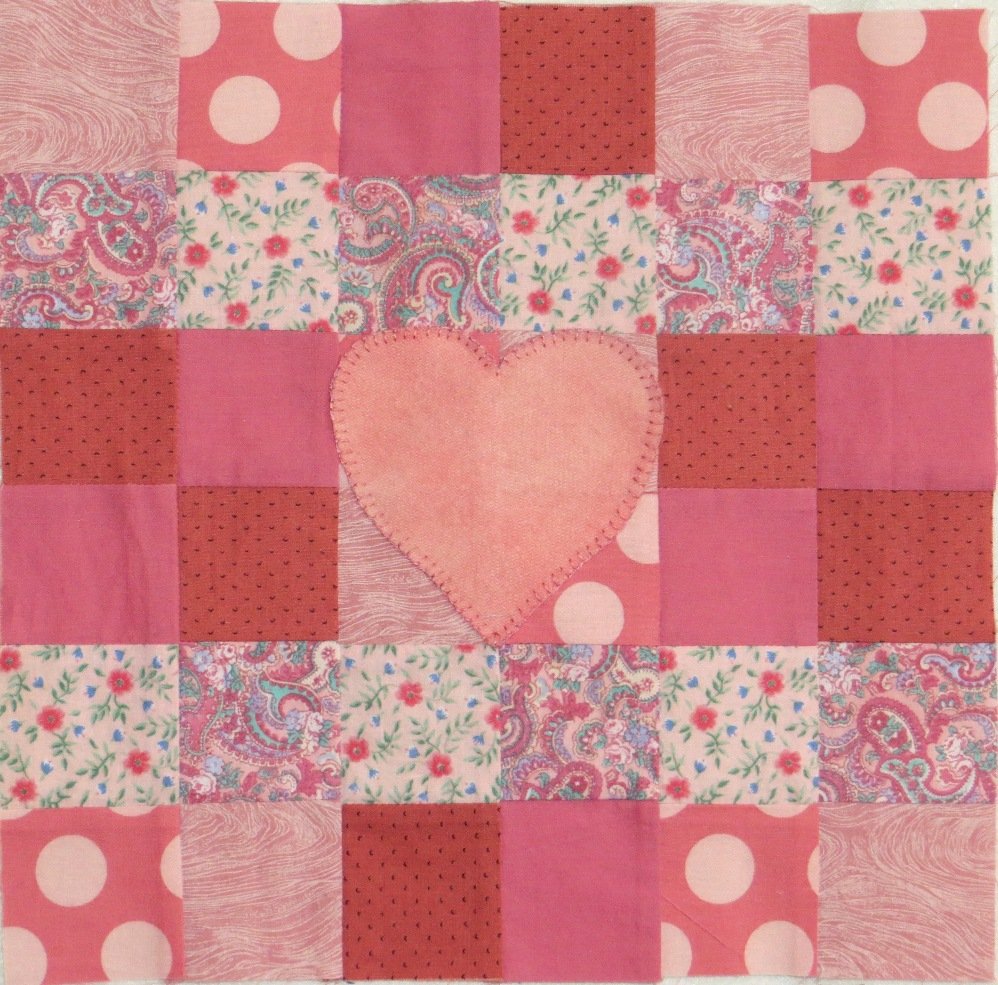 January T.O.M. Class focused on fusible machine applique. Our project was a snowman block. Participants made a snowman block to go into a Calendar Quilt at year's end, a snowman table topper, and/or a snowman table runner. One color way is shown on the flyer, another is represented below.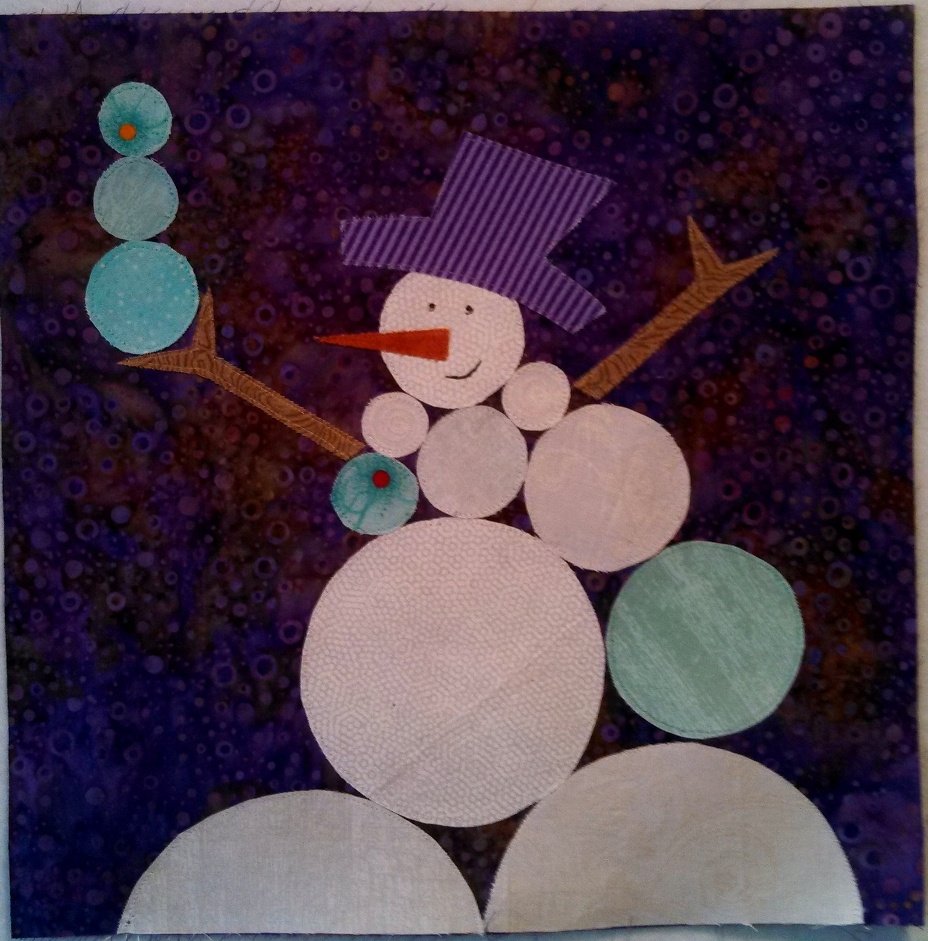 ---
January 2014 T.O.M. Class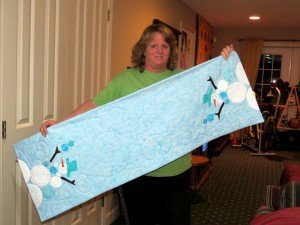 Fresh snow on the ground outside set the stage for our "building snowmen" in our January T.O.M. class. Brenda and Julie worked on their calendar quilt blocks, while Diane created a cheerful table topper.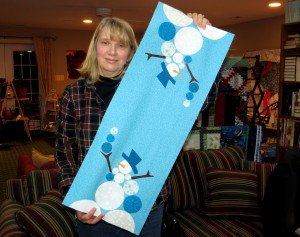 Barbie's "Snowmen" Table Topper is bright and beautiful!!!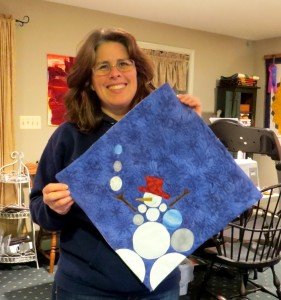 Diane tried something "new"and the result was stunning! She used my Baby Loc, Sophia 2, to stipple the background around her "Snowman" in this sweet Table Topper!
January 2014 Twisted Treasures Classes
It was such fun, most in the class couldn't stop with just making one.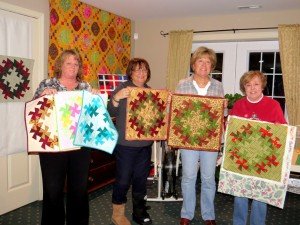 Sharon's Twisted Treasure is bright and beautiful! Step one accomplished.
Inaugural Quilting with Sue Class: "Twisted" Christmas Wreath,  Nov.-Dec. 2013
Sharon accomplished beautiful free motion stippling using her new Sofia2 Baby Loc.
Sharon's completed Glitter Twist Wreath is sparkly spectacular.
Diane's Retro Wreath will likely hang complete with a red bow.
Wendy's wreath, Scandinavian Twist, is wonderful!
Julie's Christmas Twist will be topping one of her holiday tables.
Everyone enjoyed cutting, piecing, and twisting, too!