In the same way as I love giving new life to antique blocks, I've discovered I also love giving new life to old linens.
Something Old, Something New, Something Borrowed, Something Blue (18.25″ Sq.)
Designed, appliqued, embellished, and quilted by Sue Hickman     Berryville, VA     12/2018
This quilt came to be as the result of a Reston Quilters Unlimited Club Challenge, but I couldn't have done it without skills and inspiration gleened this past spring in a quilting class with Cindy Needham.
At the AQS Quilt Week in Lancaster, PA, I took Cindy's Heirloom Feathers and Backgrounds class. My bigest 'take-away' was to simply go with it… lay a plan and jump-in. Perfection is not the goal when doing free-motion feathers. I was encouraged "I, too, could do feathers", and I was further inspired by the exhibit of her work with antique linens.
The 'old' in this quilt include two old linen handkerchiefs, old buttons, an orphaned mid-century modern Marvella earring (from my Mom), and a vintage mother-of-pearl scarf ring (from my grandmother Mimi). New are buttons and Czechoslovakian glass beads. I borrowed the background fabric and a blue bead, though it is clear the lenders aren't getting them back, and the 'blue' includes a unique square button, a large glass bead, and small glass beads.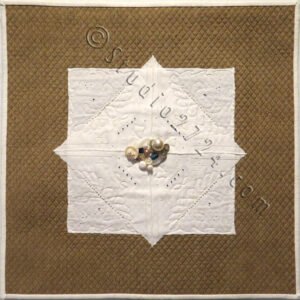 I love that antiques, in a sense, keep 'history' alive.
Antique quilts are treasures, indeed… but what about antique blocks that have never been sewn into a finished quilt?
When I've found antique quilt blocks, they "speak to me" and  I'm inspired to give them new life.
Dogwood Medallion (45.5″ Sq.)
Designed, pieced, and quilted by Sue Hickman     Berryville, Va     12/31/2016
This quilt began as a single 16″ orphan antique block found, I don't recall where, y-e-a-r-s ago. I admired the applique workmanship and dogwood design. I always intended to create a medallion quilt showcasing this block, but had a challenging time finding coordinating fabrics. Like fashion, quilting fabric colors change all the time. This pink reminds me of the original Bayer children's aspirin color(not 'pink', not salmon… somewhere in between), the old muslin had yellowed, and the gray is also unique with undertones of brown. From time to time I would pull this block out again and look for fabrics to pair with it, and finally in 2016 I found these luscious fabrics. I am so glad to finally complete this quilt, including hanging sleeve and label, and get it photographed before year's end… my last quilt of 2016.
5 Antique Blocks get new life in Stars and Stripes Forever  Table Runner (75.5″ x 18.5″)
Designed, pieced and quilted by Sue Hickman       Berryville, Va       6/14/2010 Flag Day
Vintage Fans Reborn
Using 24 antique Victorian fan blocks,  top was designed, pieced and finished by Sue Hickman – Spring 2009
Blank note cards featuring this quilt are currently available for purchase in sets of four (4) for $12.00 by emailing Sue@Studio2724.com .
Mirrored Antique Blues (23.5″ x 24″)
Pieced and hand quilted by Sue Hickman using 2 antique blocks mirrored with 2 reproduction blocks.  (2008)