In January of 2017, Kaffe Fassett launched his I Am An Artisan Challenge, sponsored by Free Spirit Fabrics. When I heard the name of the line and saw his beautiful, colorful Artisan fabric, I knew I had to participate in this challenge, for I truly am an artisan.
Artisan: noun ar·ti·san \ˈär-tə-zən\: a person who makes things by using skill with the hands
This challenge was described as follows, "Artisans start with thoughtfully chosen materials to create an item with inherent beauty and attention to detail and design. The focus of the I Am An Artisan juried exhibit is on quilts designed to showcase the harmony of color and texture. Each quilt will speak to a time when hand creation included dedication, appreciation, skill and love of the craft. It's about simplicity, intention, approach, quality, and a sense of connection to a time when craftsmanship and artisanship were celebrated."
From the silky hand of his fabrics, to creating my design, to finishing it off with just a touch of glass bead embellishments, this 60″ x 60″ medallion quilt was a delight to make!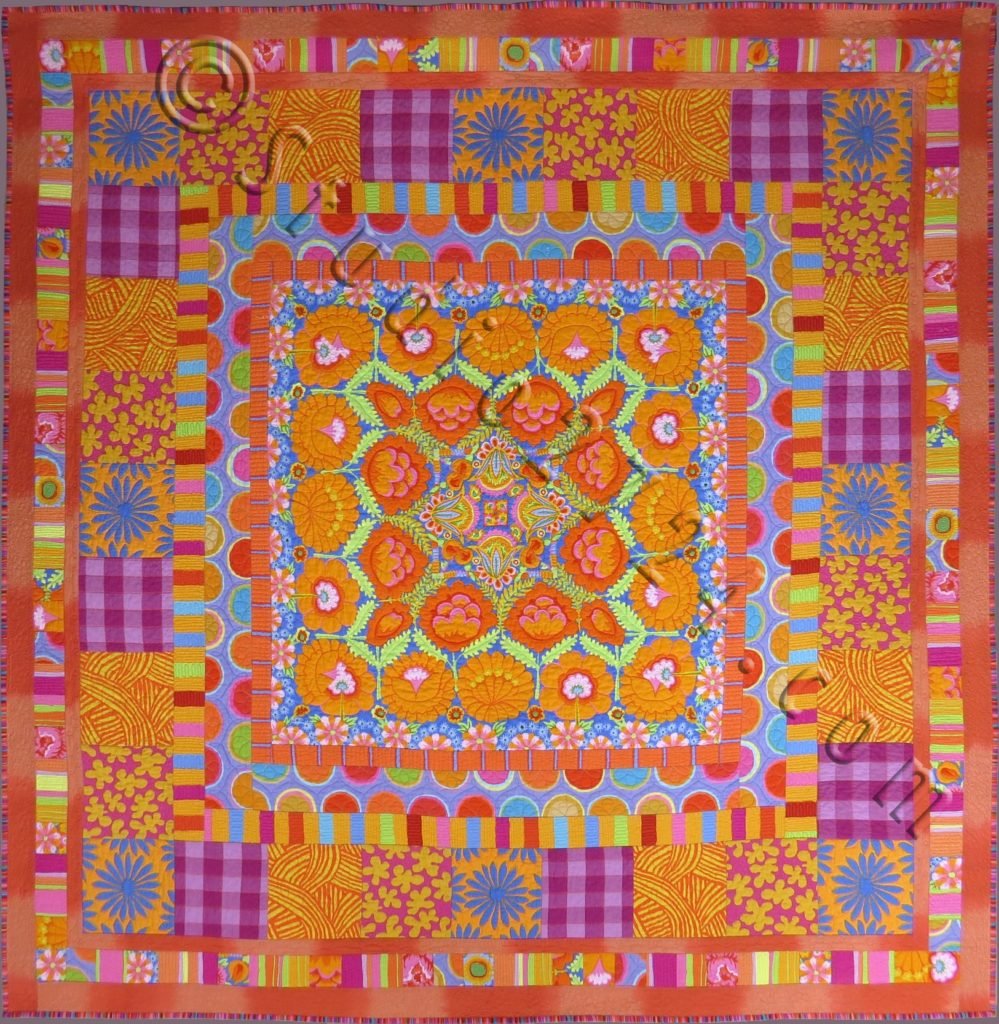 The challenge closed on June 1st, 2017 and on June 23rd I was speechless when I learned that my I AM An Artisan quilt was selected to be one of the finalists and would be included in the I Am An Artisan Challenge Exhibit.
In announcing the launch of this exhibit it was noted, "Kaffe Fassett is the undisputed genius of color. Now, his decades of experience from his work in painting, knitting, needle arts, and patchwork come together in his newest collection of fabrics called Artisan. This special exhibit features 14 juried quilts showcasing the new line."
The exhibit made its debut at the International Quilt Market , October 28 – 30, 2017 (a trade show, not open to the public), and then at the International Quilt Festival that followed it, November 2-5, 2017, in Houston, TX.
Kaffe Fassett selected the First prize and Honorable Mention winners at Quilt Market. Ribbons were awarded at that time. The Viewer's Choice was determined by physical votes at Quilt Market and through FreeSpirit social media activity during Market.
Each of these quilts were amazing and I am honored mine numbered among them!
I'm so grateful to those who took this Aurifil video at the Houston Quilt Festival! It allowed me to see the other quilts in the exhibit , and share it with you.
In 2018, this exhibit was also on display at Chicago's International Quilt Festival, April 12 – 14th.
Reunited again… This exhibit was reunited and on display at the National Quilt Museum in Paducah, KY from 1-30 September, 2018.
Truly honored!!! This is the first of my quilts to be displayed at the NQM.
This quilt was also juried in as a semi-finalist into the AQS Quilt Week in Virginia Beach, Virginia from October 3-6th, 2018.
To see more of my Challenge quilts, click on this Challenged link.