I certainly love a challenge! When truly inspired, I become passionate about a project and become driven to see the new work completed.
I AM an Artisan (60″ sq.)
Designed, pieced, embellished, and quilted by Sue Hickman     Berryville, VA     2/2017
By definition, I AM an Artisan! [Artisan: noun ar·ti·san \ˈär-tə-zən\: a person who makes things by using skill with the hands. ]
When Kaffe Fassett launched his "I Am An Artisan" quilt challenge January 2, 2017, I knew this was one challenge I HAD to do!
Here's the description of this challenge, "Artisans start with thoughtfully chosen materials to create an item with inherent beauty and attention to detail and design. The focus of the I Am An Artisan juried exhibit is on quilts designed to showcase the harmony of color and texture. Each quilt will speak to a time when hand creation included dedication, appreciation, skill and love of the craft. It's about simplicity, intention, approach, quality, and a sense of connection to a time when craftsmanship and artisanship were celebrated."
I've long loved his various fabric lines! This Artisan line offered both blue and orange options. I chose the sunny, orange ones… bright and cheerful.  Inspiration hit me right off the bat and not long after my fabrics arrived, my 60″ x 60″ quilt was done. Mine was the #5 quilt submitted.
From the silky hand of his fabrics, to creating my design, to finishing it off with just a touch of glass bead embellishments, it was a delight to make!
6-23-17 Update: I just received an email that said, in part,
"On behalf of the I Am An Artisan Challenge… thank you … Your participation is very much appreciated and your interpretation of the Artisan theme truly showed your dedication, appreciation, skill, and love for the craft and art of quilting.
We are pleased to inform you that your work, "I AM an ARTISAN," was accepted for inclusion in the I Am An Artisan
Challenge exhibition."
WAHOO!!!!!
The exhibit will hang at the International Quilt Market , October 28 – 30, 2017 (a trade show, not open to the public), and then at the International Quilt Festival that follows it, November 2-5, 2017, in Houston, TX.
The email went on to say, "Narrowing the selection from the incredible variety of creative entries was a daunting task…"  I can only imagine!
I am speechless, and SO very honored!!!
Kaffe Fassett will be selecting the First prize and Honorable Mention winners at Quilt Market. Ribbons will be awarded at that time… The Viewer's Choice will be determined by physical votes at Quilt Market and through FreeSpirit social media activity during Market."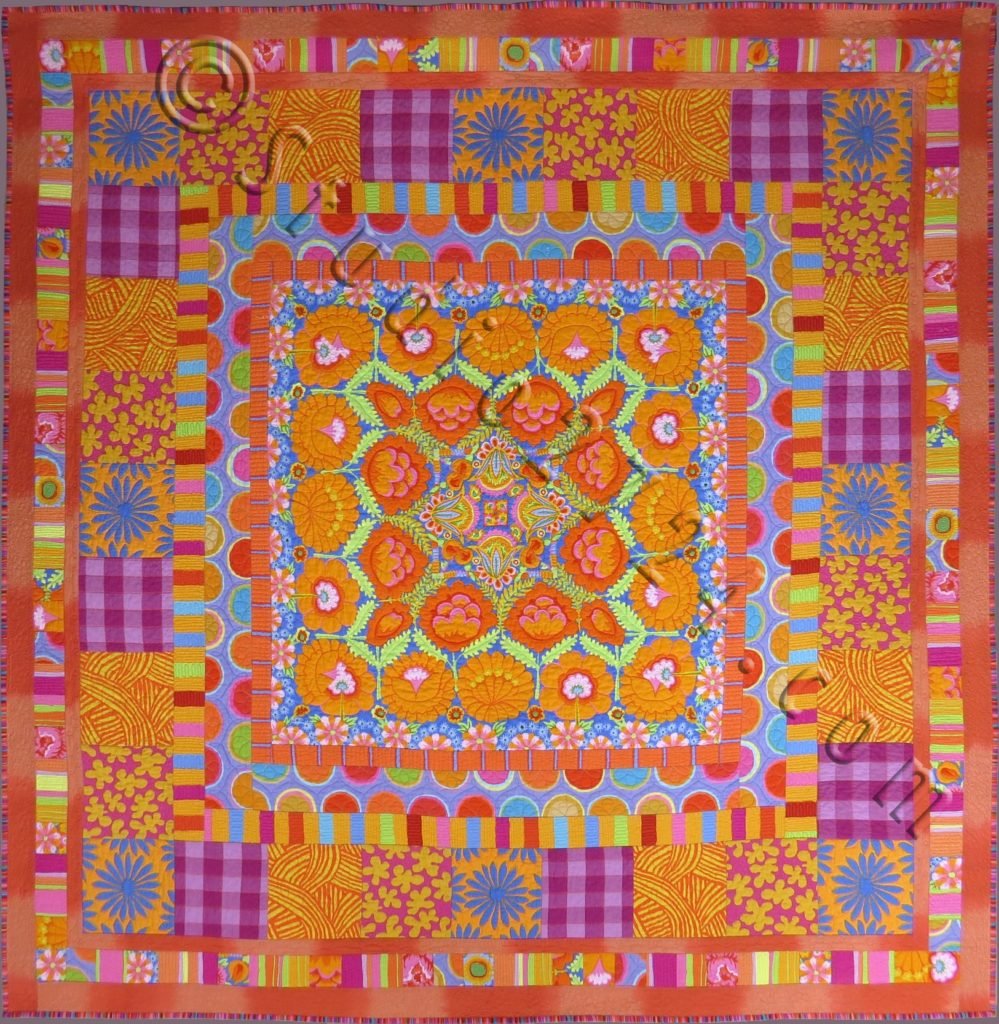 Lion King – Circle of Life (20″ x 20″)
Designed, traditionally pieced, hand and machine appliqued by Sue Hickman, Berryville, VA   3/2016
I can't wait to share images of this quilt with you! It was created for Cherrywood Hand-Dyed Fabric's 2016 Lion King Challenge, done in partnership with The Disney Theatrical Production Company, producers of The Lion King on Broadway.
This was, by far, the most demanding quilting concept I've ever tackled. However, bringing three unique designs together within one quilt seemed the best way to summarize the Lion King's Circle of Life story.  I was artistically and technically stretched to figure out HOW to create 3-D pleated images using traditional methods and Cherrywood's beautiful hand-dyed fabrics. After creating my own designs, I sequentially pieced strips of background on which I fused and appliqued the three separate images working with only ¾" of the designs at a time.
The left perspective shows strong angular lines of powerful King Mufasa (Father). Head-on, you see Sarabi (Mother) with cub Simba under a baobab tree in front of a setting sun on the Pride Lands.  The soft curved lines of the right perspective show Simba grown, ready to begin leading a pride of his own, completing the Circle of Life.
The picture's "mat" is defined by black borders and features 3-D double diamonds.
The picture's scalloped edge frame is embellished with hand-appliqued simple elements, and hand appliqued on a black background which squares the quilt. To better showcase the picture with frame concept, instead of binding, an enveloped knife edge finishes the quilt.
Of 304 quilts entered, 138 were selected as finalists in this challenge honoring the 20th Anniversary of  the Lion King. All 138 finalist quilts are published in a book commemorating this exhibit, and I am honored to have my Lion King quilt number among the finalists and to have been chosen as "Cherrywood's Choice". A complete list of where my Lion King quilt can be seen from August 2016 through November 2017, click on the Lion King banner on the home page.
"Disney's Choices" will be displayed at the Minskoff Theatre (that overlooks Times Square in NYC) in November of 2017 – the 20th Anniversary of this Award-Winning musical!
It was an absolute delight to work with Cherrywood's  luxurious hand-dyes fabrics and great fun to work through the designs and challenge of creating this one-of-a-kind quilt!
I'm already thinking through the details of the next quilt I will make using the techniques that I created and incorporated in this quilt, and yes, I will likely, in time, be offering a class in this technique in Studio 2724.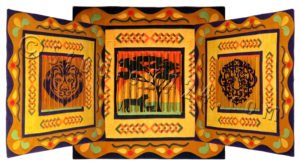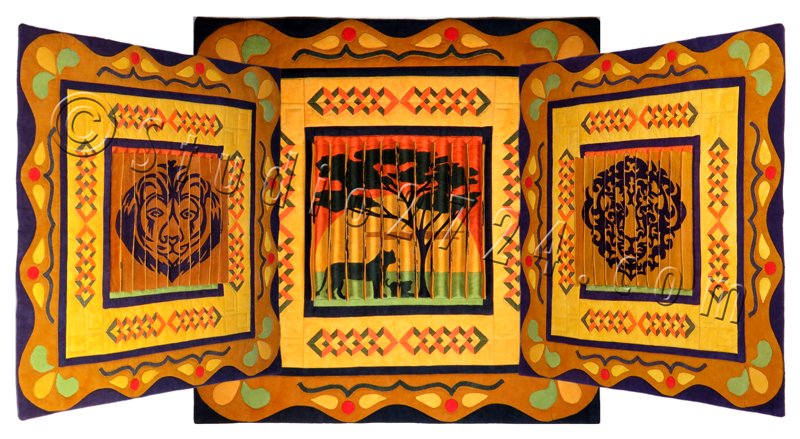 Because of the Brave – Peace and comfort  (55″ x 68.75″)
Design adapted, pieced, appliquéd, and quilted by Sue Hickman      Berryville, VA     1/17/2015
(Adapted from Stephanie Hove's Because of the Brave pattern and made for Moda's 2015 Piece & Comfort Challenge)
This patriotic military wife born on Flag Day just had to make this scrappy quilt honoring all our Nation's heroes who have served, serve, and will serve, and their families who love and support them in their sacrificial gift that keeps America free. We ARE free because of the brave!
This quilt is also made in memory of my Army soldier, KLG, Jr. Made in this year that marks the 20th anniversary of his passing, I especially wanted to honor his memory. His calling to military service, like many, stemmed from a heart of patriotism. He loved God and country and faithfully, bravely served them both with his all. At his first duty station with the 82nd Airborne, he earned the level of Jumpmaster. In Germany, he commanded an Air Defense Artillery Company. He was an outstanding soldier and leader, and a wonderful husband and father. Despite military honors bestowed on him, when his death was eminent at the age of 39, it was the love of family that meant the most to him and his only regret was not living to see his two young sons (ages 8 and 10) grow to be men.
For this challenge, I adapted Stephanie Hove's quilt pattern to make it my own.  My design sets the flag, representing all Americans, behind our military heroes, showing that we "have their backs" and support them in what they do with a heart of thankfulness.  Movement was created with the curvature of the quilting representative of the wave of the flag.  Fussy cut & hidden in the 'white' stripes are the names of all the branches of service & their mottos.
This quilt participated in Moda's 2015 Piece & Comfort Challenge. Out of the 5 quilts that participated on the local level, it won the most Scrappy Apple Quilt Shop's Viewer's Choice votes making it the local winner. Then as a finalist, it went on to participate in Moda's National 2015 Piece & Comfort Challenge.
This quilt was shown in the 2015 Quilter's Unlimited 42nd Annual Quilt Show at the Dulles Expo Center.
Blank note cards featuring this quilt are currently available for purchase in sets of four (4) for $15.00 by emailing Sue@Studio2724.com . They measure 4 7/8″ x 6 3/4″ and fit perfectly in a standard 5″ x 7″ frame.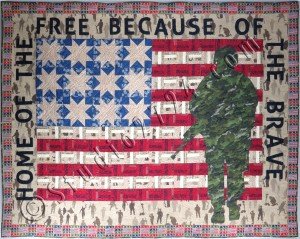 A "See" of Three (36″ Sq.)
Created as a Shenandoah Piecemakers' 'Triple-Play Challenge
Designed, Pieced, and Quilted by Sue Hickman       Berryville, Va       10/2010
A See of Three began as a quilt group challenge in 2010. Never one to shy away from a challenge, I began to sketch without regard for 'how' I would bring this design to completion. The Triple-Play Challenge called for creating a quilt that was 36" square, contained at least one triangle, and that contained one other "three" (suggestions included three colors, shapes, and techniques).  I began with the three large green triangles and proceeded to add one additional element at a time until I was pleased with the harmonious balance within the design. In keeping with the Triple-Play challenge, I designed, made, and quilted this project. Further, I pieced and appliquéd by hand and utilized paper-piecing techniques. I used my modern Phaff and Singer sewing machines as well as my Grandmother's old Westinghouse. The three color families represented are personal favorites: blue, green, and teal.  And, finally, this completed quilt is both 3-D both physically and optically, requiring a considerable draw from my interior design/drafting skills acquired in college.
This quilt showed at the 2011 Northern Shenandoah Valley Quilt Show, held in Berryville, Va.
Received a Viewer's Choice Award at the Northern Shenandoah Valley Quilt Show April 2011
It won a Blue Ribbon at the Clarke County Fair in August 2012.
This quilt was one of the quilts showcased in a Solo-Artist "Art in the Halls" show at The Museum of the Shenandoah Valley in Winchester, VA from October 18th, 2016 through January 22nd, 2017.
Blank note cards featuring this quilt are currently available for purchase in sets of four (4) for $12.00 by emailing Sue@Studio2724.com .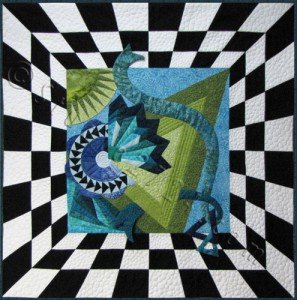 Birds, Blooms, and Butterflies (60.5″ x 48.5″)
Designed and Pieced by Sue Hickman       Berryville, Va     Spring 2009
A Shenandoah Piecemakers' Challenge Quilt. The challenge was to create a quilt that made use of the 12 "fat quarters" of fabric provided by the club's members. Inside the borders of this quilt, the design uses a multitude of 1″ pieces of various prints and colors.
This quilt showed at the 2009 Northern Shenandoah Valley Quilt Show, held in Berryville, Va.
Birds, Blooms, and Butterflies received the Viewer's Choice Award at theNorthern Shenandoah Valley Quilt Show 2009 for the Shenandoah Piecemakers' Challenge category.
This quilt showed at the 2009 State Fair of Virginia Quilt Show.
This quilt was featured among other quilts that hung at Bowman Library in Stephens City, Va. from March to June 2010.