Designed for Cherrywood's 2017 Van Gogh Challenge
Paper-pieced, Reverse, Needle-turn, Raw edge and Fusible Appliqué. Layers upon layers of fabric, silk ribbon, tulle, machine quilting, thread painting, texturizing, and hand-sewn 2mm Australian sequins
by Sue Hickman    Berryville, VA      7/2017
Leading up to the 'reveal' of this quilt, I shared the following snippets and quotes on my Facebook page:
7/25/2017 – Inspired by a life-long passion for his work, I was challenged this past year to bring my most vivid recollections of Vincent van Gogh to life. It wasn't my goal to re-create his work, but rather to pay homage to him and his post-impressionist emotion and vision.
Before I reveal the completed work, though, I thought I'd present you with peeks at my creative journey and some of my favorites of his famous quotes. These wise words speak truth… even to one who can't fully appreciate wheat because of the gluten it contains.
"If I am worth anything later, I am worth something now. For wheat is wheat, even if people think it is a grass in the beginning." -Vincent van Gogh
7/26/17 – Vincent van Gogh said, "Great things are done by a series of small things brought together."  This can certainly be said of my humble attempts to make challenge quilts with the hope they will be well received and considered 'great'!
Unaware of anyone who had ever achieved this 3-D concept using a variety of traditional quilting techniques (machine piecing and applique', for example, rather than Photoshop), I tackled my "Lion King – Circle of Life" quilt literally one step at a time.  Each day I simply did "the next thing" until it was finished. I still marvel and am honored it was awarded Cherrywood's Choice Award in their Lion King Challenge 2016.
Creating this year's Van Gogh Challenge quilt had me experimenting with a number of techniques (new to me) and 'painting' with tiny pieces of fabric, one piece at a time.
7/27/17 – Vincent van Gogh was quoted as saying, "I am far from being what I want to be, but with God's help I shall succeed." His words seem to convey what I've long said, "God's not finished with me yet."  I love that I still have growing and stretching to do in this life, and through my artistic expression. It keeps life interesting.
He also said, "What would life be if we had no courage to attempt anything."… To which I say, "Yes!" I guess that's why I so love a challenge. I'm selective with the challenges I take on, though. My inner spirit has to be moved by the challenge, producing a passion for the project within me.
7/28/17 – Maybe it's because we are both artists, but I can totally relate to so many of Vincent van Gogh's words… He once said, "I long so much to make beautiful things. But beautiful things mean painstaking work, disappointment, and perseverance."
As my "Vincent" took shape I lost count of the things I tried to achieve the look I desired until finally it met with my satisfaction.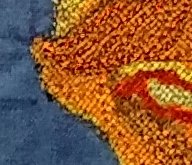 7/29/2017 – Vincent van Gogh said, "If you have a voice within you say you cannot paint then by all means paint, and that voice will be silenced." And, "I dream of painting and then I paint my dream."
I can totally relate!!!
When I take on 'quilt challenges', they begin as a thought, a concept, a dream and then I go to work to create that dream. And when a nagging little voice tries to tell me I cannot do it… that I cannot design and bring that design to completion with fabric, I just work all the harder, and that voice is silenced.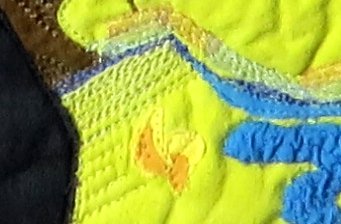 7/30/2017 – Vincent van Gogh said, "It's a pity that, as one gradually gains experience, one loses one's youth."
I've been quilting for almost 40 years and I'm still exploring new ideas and techniques in quilting. It keeps quilting fresh and exciting for me. Over the years I've continued to build upon the basics learned long ago. "Back in the day" I pieced, appliquéd, and quilted by hand and, whenever appropriate, I still incorporate those techniques in my quilts. In the process of practicing my art, though, like Vincent, I've left my youth in the rear view mirror.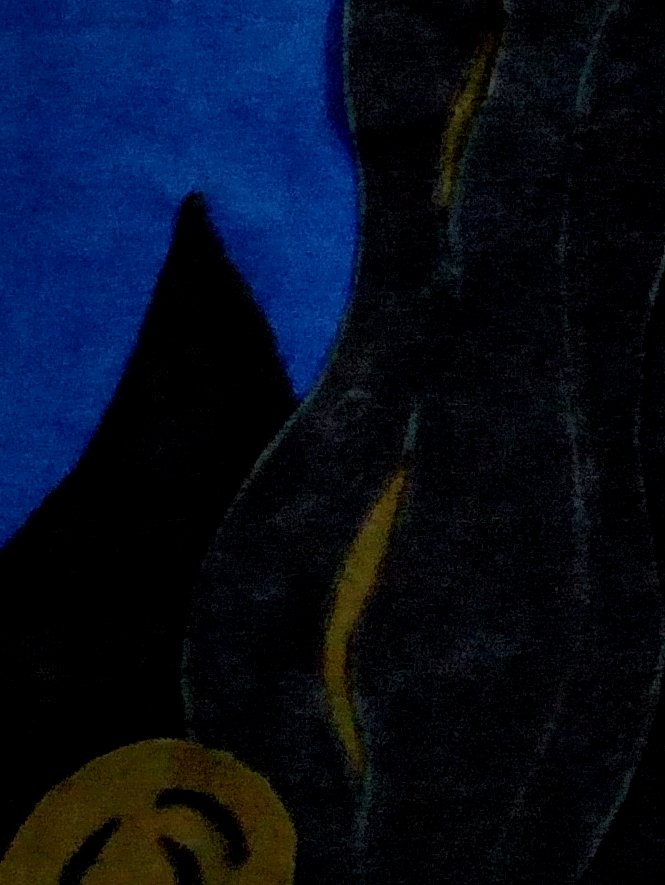 7/31/17 – Vincent van Gogh said, "I can't change the fact that my paintings don't sell. But the time will come when people will recognize that they are worth more than the value of the paints used in the picture."
When one can buy 'quilts' at WalMart for a fraction of their worth, even as the skills incorporated in their making are beginner at best, and folks sell their production pieces on Etsy for a bargain, it is a special person who can see the true value in a beautifully hand-crafted quilt, whether it will be functionally used for warmth or admired on the wall for the beautiful piece of art that it is… John Keats said it best, "A thing of beauty is a joy for ever: Its loveliness increases; it will never pass into nothingness; but still will keep…".
8/1/2017 – Vincent van Gogh said, "What is done in love is done well." "If you work with love and intelligence, you develop a kind of armor against people's opinion, just because of the sincerity of your love for nature and art…" and "I wish they would take me as I am."
Like Vincent, I pour love and passion into my work. It is always my hope that others will love my quilt as I do… but it isn't finished until I love it.
Why work so hard at it? This expresses my 'why':
Work willingly at whatever you do, as though you were working for the Lord rather than for people. Colossians 3:23 (NLT)
Of course, I hope my work is well received, but if I love it, if I feel I have done my best work, if I feel God is pleased, then that is enough. That said, of course I'm still hoping mine will be chosen to number among the finalists. Check back tomorrow to see my Van Gogh Challenge quilt.
8/2/2017 – Ta-da… after 8 days of sharing my favorite Van Gogh quotes, I now would like to introduce you to my "Visions of Vincent".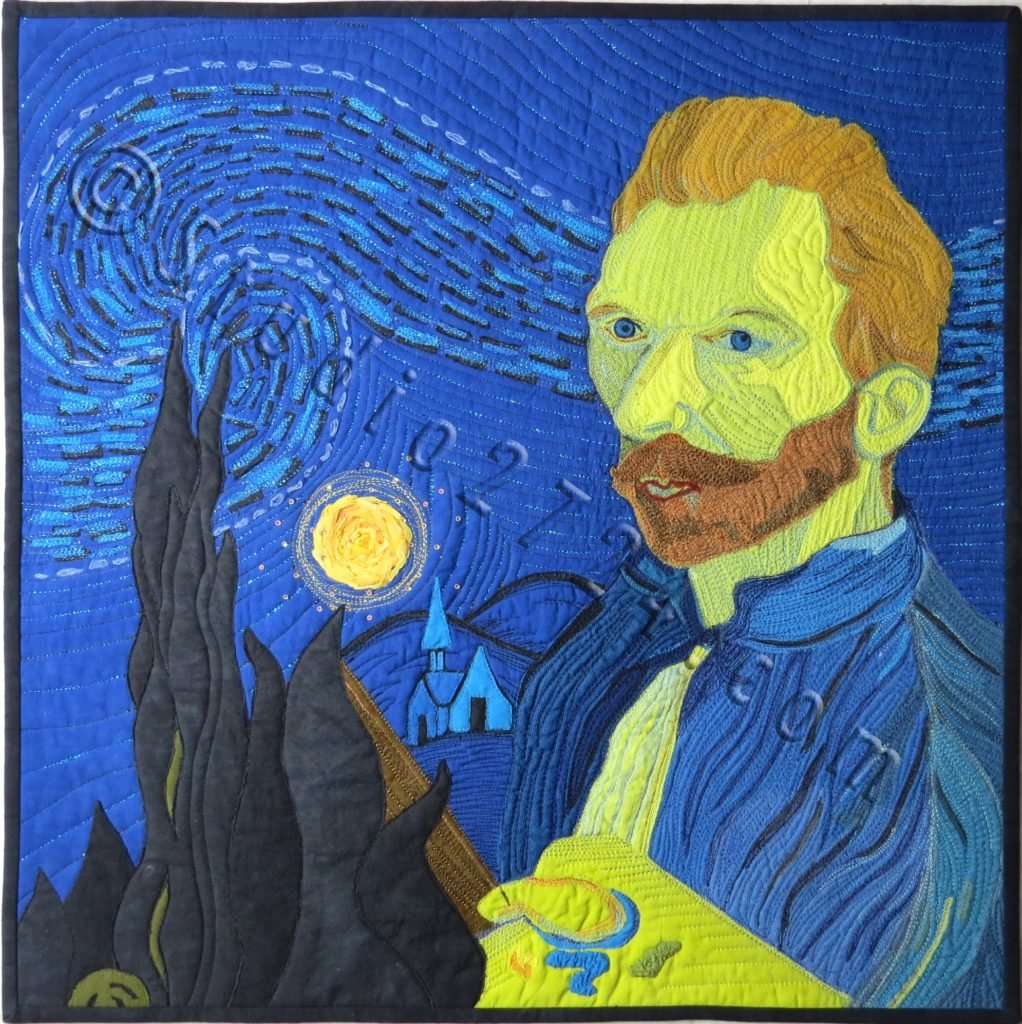 In this piece I didn't try to recreate his work, rather, it was my goal to create the illusion of his masterful Post-impressionistic emotion, paint strokes, shading, and movement.
As he did with paint on canvas, I tried emphasize the application of fabric on the quilt. In it, visions of The Starry Night, with its iconic Cypresses, Venus (the morning star), and church steeple flow through the mind's eye of Vincent's Self Portrait of the same year…1889 (the year before he died).
I am genuinely honored to have my Visions of Vincent quilt number among the original 120 finalists, which comprise the French Gallery exhibit.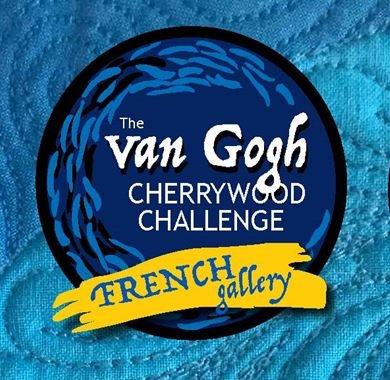 While I'm thrilled it found favor in the eyes of the judges, most importantly, I like it… no, I love it! This was my first attempt at a quilted portrait and as I sit and type these words I can glance across the room and see Vincent. Looking as I am from the right side, his face has a fullness of shape, contour, and perceived depth.
Thank you Cherrywood for another awesome challenge! Like the Lion King, this one certainly took me to places I've not been before in the creative process. It genuinely stretched and grew me!
Van Gogh Challenge Statistics: 465 entries. 120 Original Finalists, including the 1st, 2nd, and 3rd place winners, Cherrywood's Choice and Bohin's Choice quilts, comprise the French Gallery exhibit. 80 Finalists comprise the Dutch Gallery exhibit which will debut Spring 2018 and travel through December 2018. Additionally, 10 quilts comprise the "Cherrywood Collection" and will be displayed at Cherrywood lectures, Trunk Shows, Retreats, and at the Dye Studio.
You will also find additional information about this quilt on my Visions of Vincent and 2017 pages.
#cherrywoodchallenge , #cherrywoodchallenge2017, #cherrywoodvangogh, #cherrywoodhanddyedfabrics , #vangoghchallenge