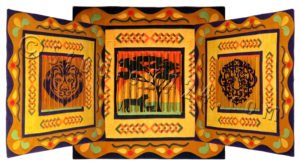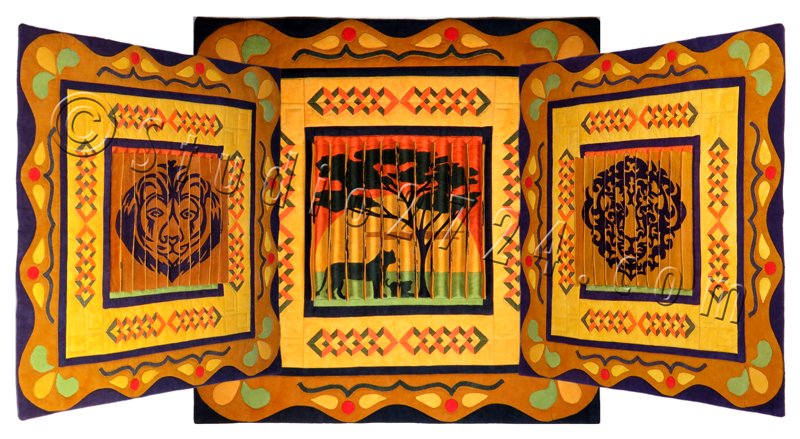 My Lion King – Circle of Life quilt
Finalist in Cherrywood's 2016 Lion King Challenge
"Cherrywood's Choice – Lion King Quilt"
Those who know me well know I've quilted for over 35 years. I've made all genre of quilts, both big and small, but I've never made one like this before. This was, by far, the most demanding quilting concept I've ever tackled.
When asked what inspired me to create this quilt, I answer, "Three things":
Since discovering 3-in-1 quilts that used photoshop to splice three photographs together before printing the result on white fabric, I've been fascinated with the concept of creating the same kind of quilt using traditional quilting techniques.
I was tempted by the description of Cherrywood's beautiful hand-dyes fabrics as being suede-like and the theme of their Lion King Challenge. Why? I don't really know except to say that…
With those first two reasons in mind, and the fabrics on order, I almost instantly had the central designs of my quilt come to me as I sat to sketch. This quilt was "meant to be".
I wanted this quilt to encompass the story's central theme. Bringing three unique designs together within one quilt seemed the best way to summarize the Lion King's Circle of Life theme.
In making this quilt I was both artistically and technically stretched to figure out HOW to create 3-D pleated images using traditional quilting methods. After I was satisfied with my three designs, I sequentially pieced strips of background on which I fused and appliqued the three separate images working on only a ¾" wide strip of each design at a time. Surprisingly, the whole quilt came together rather quickly because I was figuring it out as I went. After working in my studio each day I'd get an idea of what my next step should be, so the next day I'd be right back at it before I lost my train of thought and the direction I was headed. Before I knew it, the quilt's central image was done.
From the left perspective, you see the strong angular lines of powerful King Mufasa (Simba's Father). Head-on, you see Sarabi (Simba's Mother) with cub Simba under a baobab tree in front of a setting sun on the Pride Lands.  The soft curved lines of the right perspective show Simba grown, ready to begin leading a pride of his own, thereby completing the Circle of Life.
I wanted the final quilt to resemble a "picture", so I both matted and framed it. The picture's "mat" is defined by black inner and outer borders and features 3-D double diamonds. This was also my first attempt at the double-diamond technique. Here again the Cherrywood fabrics were a dream to work with, soft of hand and sturdy of body.
I had envisioned a scalloped edge frame for this "quilt picture", but the challenge rules called for a square quilt. I resolved this conflict by first creating a scalloped frame to go around the central images and mat. So as to not take away from the central focus of this piece, I embellished the frame with simple hand-appliqued elements that showcase just a few of Cherrywood's other beautiful bold tone-on-tone colors. Finally, I hand appliqued the scalloped-edged frame on a squared black background. I didn't use an outer binding. Instead, an enveloped knife edge squares and finishes this quilt, giving backdrop to the framed picture.
I am so pleased to have figured out my personal challenge creating the central three-in-one picture using traditional quilting techniques and love how it all came together. I want to thank Cherrywood for providing both these wonderful fabrics and the opportunity to stretch and grow myself in the process of doing their challenge. I've seen a few of the other 304 quilts entered online. The three judges had the unenviable task of narrowing all those spectacular entries down to just 138 finalists, and I am honored to be numbered among them!!! I heartily thank the judges for their hard work and take away encouragement in my own efforts by the results.
What a joy it was to learn that my Lion King – Circle of Life Quilt was chosen to be one of the 138 finalists and, as such, numbers among those published in the Lion King Challenge commemorative book. YEAH!
This quilt was truly great fun to make, but I knew its unique features would require extra special handling. Upon hearing from Cherrywood that it had been selected as their "Cherrywood's Choice" Lion King Quilt and that as such it would travel with them to shows in the coming year, I was thrilled to know it will travel safely in their care.
Thank you, Cherrywood, for this honor!
Check out this link to see a short video of this quilt.
(If you'd like to know more about Cherrywood, this article tells "their story".)
It looks like it just might be traveling more than me in this coming year.
You can visit it and meet the kind folks of Cherrywood in their booth at the following shows on the following dates:
AQS QuiltWeek, Grand Rapids, Michigan, August 10-13, 2016  (in Cherrywood's booth #1111 – pictured above with Cherrywood's Karla Overland.)
AQS QuiltWeek, Chattanooga, Tennessee, September 15-17, 2016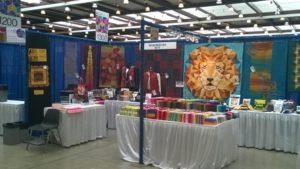 International Quilt Festival, Houston, TX, November 2-6, 2016
Truly honored that my lil' lion was among those featured in this video by Alex Anderson and Ricky Tims' (TheQuiltShow.com blog)! Taken at International Quilt Festival in Houston, TX 11/2016.
Cherrywood's "Anticipation" FB Post 11-22-2016 announces the arrival of the Cherrywood Lion King Challenge at the Franklin Arts Center in Brainerd, MN.
Exhibit runs through January 3rd, 2017.
Road to California Quilt Show, Ontario, California, January 19-22, 2017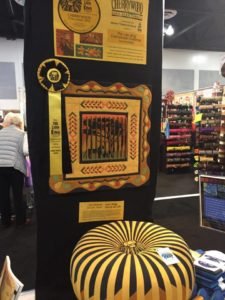 At Cherrywood's booth #825.
MQX Quilt Festival, Manchester, New Hampshire, April 6-8. 2017
AQS QuiltWeek, Paducah, Kentucky, April 25-29, 2017
I spy with my little eye my Lion peeking out from behind the camera's screen.
The Quilt Channel was on location at the Robert Cherry Civic Center interviewing Karla Overland of Cherrywood Fabrics for "What's Happening" with Alan Jackson.
Minnesota Quilt Show, Duluth, Minnesota, June 7-10, 2017
QuiltExpo Madison Wisconsin, September 7-9, 2017

See him there on the right side of the Cherrywood's Quilt Expo booth? His journey continues… oh, the places he's seen, the people he's met, and the creativity he's inspired.
Pacific International Quilt Festival, Santa Clara, California, October 12-15, 2017 (Cherrywood will be in booth #101)
Having journeyed across the country with Cherrywood, it is my pleasure to share him with local audiences:
45th Annual Quilters Unlimited Quilt Show, June 1st, 2nd, and 3rd 2018 at the Dulles Expo Center in Chantilly, VA, and
As part of my local quilt group's Viva La Difference… Celebrating All Quilters and Quilt Styles exhibit at the Virginia Quilt Museum in Harrisonburg, VA from September 18th through December 15th, 2018.
For more pictures of this piece, scroll down on my 2016 page or read more about it on this Challenged link.
#cherrywoodlionkingchallenge
#cherrywoodchallenge