A Cherrywood Hand-Dyed Fabrics 2017 Van Gogh French Gallery Finalist
Inspired by a life-long passion for his work, I was again moved to create when Cherrywood Hand-Dyed Fabrics announced its 2017 Van Gogh Challenge. It was my goal to pay homage to Vincent van Gogh by creating the illusion of his masterful Post-impressionistic emotion, paint strokes, shading, and movement.
As he did with paint on canvas, I tried to emphasize the application of fabric on the quilt. In this quilt, his 'visions' of The Starry Night, with its iconic Cypresses, Venus (the morning star), and church steeple flow through the mind's eye of Vincent's Self Portrait of the same year…1889 (the year before he died).
While I am a "Quilt Artist", this was, in truth, my first real "art quilt". In it, I deviated from traditional quilting methods and experimented with all manner of application and embellishment.
As with my Lion King- Circle of Life quilt (Cherrywood's Choice quilt in their 2016 Lion King Challenge), this one certainly took me to places I've not been before in the creative process. It genuinely stretched and grew me!
In this Challenge, using a package of three Van Gogh blues and one black hand-dyed fabrics, we were to use Vincent van Gogh's paintings as inspiration to push ourselves creatively, think outside the box, and create new fiber art. Each finished quilt was to 'read' blue and measure 20″ x 20″ square.
I am genuinely honored to have my Visions of Vincent quilt number among the original 120 finalists, which comprise the French Gallery exhibit.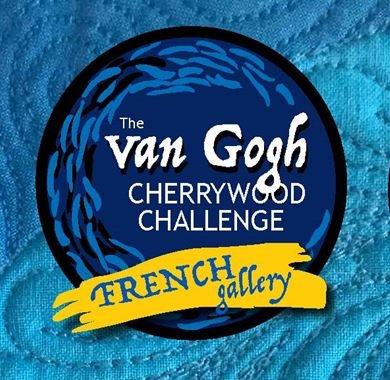 This exhibit made its debut at the International Quilt Market and Festival in Houston, TX, October 27 – November 5th, 2017
From there, it will continue to travel for over a year. Destinations include:
The Cotton Harvest Quilt Shop, Seaforth, Ontario, Canada, November 30 – December 2, 2017
Road to California Quilt Show, Ontario, California, January 18-21, 2018
My Vincent can be seen about 56-57 seconds into the video.
Stevens County Museum, Morris, Minnesota, February 5-12, 2018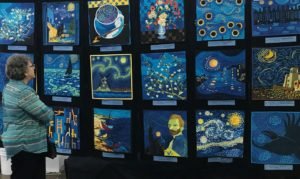 AQS Quilt Week, Daytona Beach, Florida, February 28 – March 3, 2018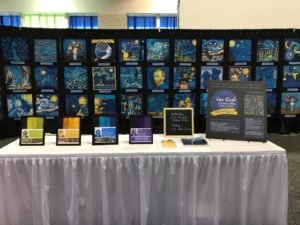 AQS Quilt Week, Lancaster, Pennsylvania, March 21-24, 2018
AQS Quilt Week, Paducah, Kentucky, April 18-21, 2018
…On display in the Pavalion.
Utah Quilting and Sewing Marketplace, Salt Lake City, Utah, May 3-5, 2018
North Star Retreat Center, Ashby, Minnesota, May 11-19, 2018
Crossing Arts Alliance, Brainerd, Minnesota, May 29 – June 9, 2018
Locally, in the news:
Minnesota Quilters Show, St. Cloud, Minnesota, June 14-16, 2018
Sisters Outdoor Quilt Show, Sisters, Oregon, July 14, 2018
The exhibit was supposed to wrap up its tour at the BOHIN Manufacture and Museum in France from August 10th through November 5th, 2018… but one last stop was added upon their return. In December, 2018, both the French Gallery and Dutch Gallery of quilts were exhibited at The Barn – Women's Art Club Cultural Center in Mariemont, Ohio.

Van Gogh Challenge Statistics: 465 entries. 120 Original Finalists, including the 1st, 2nd, and 3rd place winners, Cherrywood's Choice and Bohin's Choice quilts, comprise the French Gallery exhibit. 80 Finalists comprise the Dutch Gallery exhibit which will debut Spring 2018 and travel through December 2018. Additionally, 10 quilts comprise the "Cherrywood Collection" and will be displayed at Cherrywood lectures, Trunk Shows, Retreats, and at the Dye Studio.
For more detailed pictures of this piece, scroll down on my 2017 page or read more about it on this Challenged link.
(If you'd like to know more about Cherrywood, this article tells "their story"… below are pictures from this article of my Visions of Vincent with other Van Gogh French Gallery finalists.)
#cherrywoodchallenge , #cherrywoodchallenge2017, #cherrywoodvangogh, #cherrywoodhanddyedfabrics , #vangoghchallenge